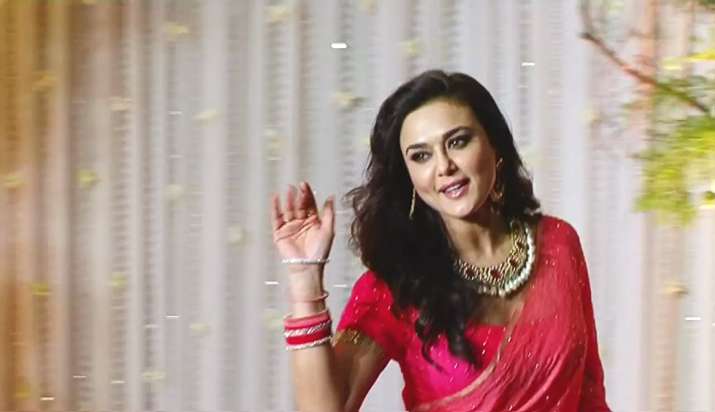 Actress Preity Zinta a few months ago went from Ms to Mrs. The 41-year old dimpled beauty of Bollywood married her long time boyfriend Gene Goodenough on February 29, this year.
It has been a while since Preity was seen on the silver screen, her last outing being the 2013 movie 'Ishq In Paris'. Preity also co-wrote the story of the movie which bombed at the box office.
Despite a hiatus and a not so rewarding last silver screen appearance, Preity's fan following has not changed. Many of her fans want to know more about the beauty queen, and lucky for them Preity herself doled out some secrets about her life.
While stuck in traffic, Preity decided to have a quick chat with her fans today, and was soon bombarded with questions. Fans of Preity asked her everything from her marriage to her favourite Khan, from how she liked 'Sultan' to what Shah Rukh Khan means to her.
In the conversation which had glimpses of wit in it, Preity showed how much in love she is with her husband. She said that USA and India both are her homes and even credited Gene Goodenough for her adorable smile. She revealed that her upcoming movie 'Bhaiyyaji Superhitt' with actor Sunny Deol will hit theatres by the end of this year or early next year.
Married life is great👍 Will head back to la post the shoot 👍💃😘 https://t.co/yB15bLBVyy

— Preity G Zinta (@realpreityzinta) July 28, 2016
India when I'm away and US when I'm in India 😘 both are home now https://t.co/0sf9P43fmo

— Preity G Zinta (@realpreityzinta) July 28, 2016
Of course 👍 Anytime and every time 😘💃 https://t.co/Y8EizDG80A

— Preity G Zinta (@realpreityzinta) July 28, 2016
My awesome Gene's 😘 hahahah https://t.co/6FSDijYgDV

— Preity G Zinta (@realpreityzinta) July 28, 2016
MINDBLOWING 👍 https://t.co/LMfWAUGtjK

— Preity G Zinta (@realpreityzinta) July 28, 2016
Flossing & brushing teeth regularly and happiness in big and small things 😘 ting ! https://t.co/5dnY3fdNpg

— Preity G Zinta (@realpreityzinta) July 28, 2016
My Veer ❤️❤️❤️ https://t.co/96yl0VUjvh

— Preity G Zinta (@realpreityzinta) July 28, 2016
#bhaiyajisuperhit will come this year end or early next year https://t.co/q1GyOCDu9n

— Preity G Zinta (@realpreityzinta) July 28, 2016
Idhar Chala mein udhar Chala from Koi Mil Gaya https://t.co/PUKyhvgCqr

— Preity G Zinta (@realpreityzinta) July 28, 2016