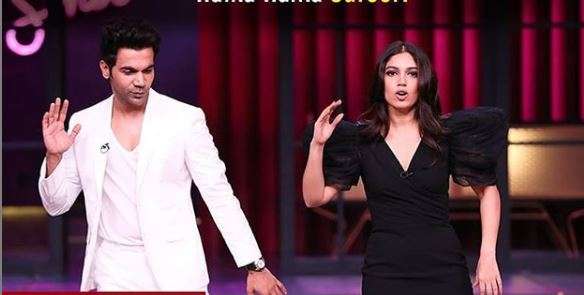 The coffee and the couch are making our favourite stars spill the beans. Koffee With Karan 6's each episode is fun to watch. The stars make interesting revelations while sipping coffee or taking coffee shots. The latest episode features Rajkummar Rao and Bhumi Pednekar, who were seen at their candid best. The duo, who has already impressed us with their films were literally on fire during their rapid fire round.
The show begins with dance moves as Rao and Pednekar groove to Chhaiyya Chhaiyya. The host Karan Johar shows us some Insta videos of Rao, in which he can be seen grooving to Bollywood songs. Here are detailed highlights of the episode:
The episode begins with a fan question for both the actors. 'When will they play rich people onscreen?', to which they reply, 'only when Karan Johar will cast them in their films'.
Bhumi has worked as an assistant director to Shanoo Sharma before entering into films. She went down the memory lane narrating how her debut film happened to her. When KJo asks whether she enjoys the role she gets or she wants to be like Alia, Deepika and other contemporaries.  Bhumi gives an interesting reply to it. She reiterates that she wants to play a rich woman onscreen.
When Johar asks Rao about his newfound stardom, the actor says, ''Money was never the parameter for me, I genuinely fell in love with the craft''. He also answered question about his relationship and marriage. ''Mentally I am not ready to get married. It is a mutual decision to not get married,''. ''You should be insecure, Patralekha is so hot,'' Bhumi says.
Bhumi also revealed that she has auditioned Disha Patani, Ranveer Singh, Rajkummar Rao, Kriti Sanon as casting director. When asked who left her impressed, she said 'Parineeti Chopra'. Pednekar thought that Rao was okay and Disha Patani was not good enough in the beginning.
Rao and Pednekar, who both are outsiders also answered a question on nepotism. Rao said that initially, he felt like an outsider when no one gave him the bigger roles. But at the end talent rocks, says KJo.
During rapid fire round, Bhumi said that she can give a kidney to work with Sanjay Leela Bhansali. She said that she would like to steal Anushka Sharma's husband, movies from Alia Bhatt and would like to hypothetically go on a date Nick Jonas.
Rao revealed that if not dating Patrakekha, he would have gone on a date with Deepika Padukone. He revealed Aishwarya Rai Bachchan made his nervous as he had a crush on her when they first met. Rao called Sanya Malhotra and underrated actor and called himself overrated.