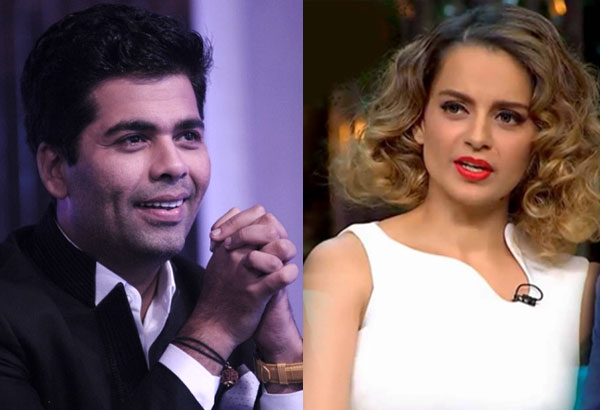 Bollywood diva, Kangana Ranaut, who belongs to a small town says, she really had a tough time in B-town initially. She was shamed for her speaking skills and even her dressing style. Taking a dig at Karan Johar, the host of the TV show, 'Koffee With Karan' on Sunday, Kangana really turned out to be a firecracker on fifth season of celebrity talk show.
Targeting Karan Johar for shaming the actress for her communication skills, the actress said, Karan has 'verbal diarrhea'. She even said Karan was an example of nepotism in B-town. 
Further, the actress even confessed that director and producer, Karan Johar has been her 'driving force', who forced her to work on her speaking skills indirectly. 
Meanwhile, Karan praised the actress and spoke about her extraordinary talent, while welcoming the actress on his show. Karan said he has become fan of Kangana after watching 'Queen' and 'Tanu Weds Manu'. To which the actress replied, "I'm so happy to hear this from you as well because you've been the driving force in my life. If it wasn't for your rejections and mocking and all those... of course you made fun of my English on this and you made fun of everything. I'm not complaining about it. I'm just saying. Somewhere these things do drive you."
Kangana was also declared the winner of the 'Rapid Fire Round' of the show, to which, the actress said, it's an attempt of Karan to 'redeem' himself. But this was simply said on a lighter note just to pull leg of the host of the show.