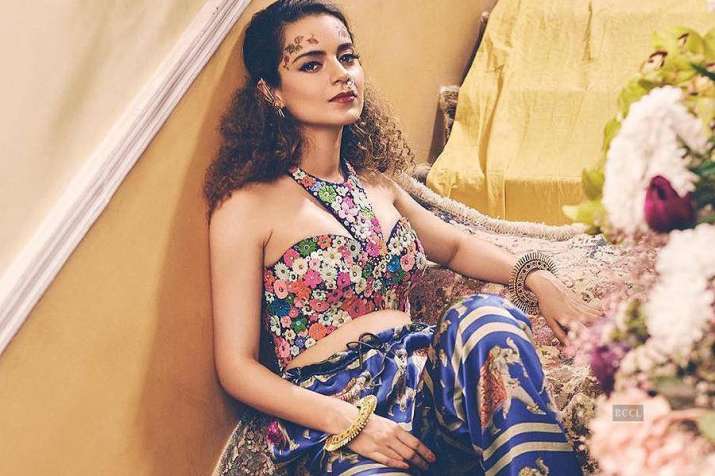 As 2018 is just a week away, 2017 is getting wrapped up with our timelines being flooded with numerous year-end list listicles which are drawing us to look back at what has happened this year. Starting from the best movies, best actors, best TV shows, controversies that grabbed headlines, there's one lady who managed to rock 2017 and stay in the news cycle throughout the year, was our very own Queen of Bollywood- Kangana Ranaut.
Talking about Kangana's work, she had two releases this year, Rangoon and Simran. Regardless of having renowned directors like Hansal Mehta and Vishal Bhardwaj, the films did not do well and barely managed to stay at the box-office. It's quite surprising to find a celebrity on our timelines almost every other day, just by doing only two movies in a year. Kangana Ranaut turned this into reality. 
Fearless. bold, outspoken, confident, daring, these attributes are not enough to describe actor Kangana Ranaut? That's because she is a lot more than that. 
Being a controversy magnet, Kangana started the year with her nepotism spat with director Karan Johar. She made remarks on Karan like 'movie mafia' and 'flag bearer of nepotism' on Koffee With Karan when she went with her Rangoon co-star Saif Ali Khan to promote the flick. Though KJo kept mum on the show, the remarks agitated him so much that they sparked a war between Kangana and Karan. 
During this nepotism war, what gave fuel to the fire was when KJo took a dig at Kangana at IIFA 2017 along with Saif Ali Khan and Varun Dhawan. Their humour was highly abashed and then came another round of controversy. Rangoon failed to stand by the box-office but Kangana's performance was well-received as usual.
Subsequently, she started shooting for the Rani Laxmi Bai biopic, during which she was alleged by director Ketan Mehta that she stole his concept. This was not yet over when a precursor to another controversy cropped by which was led by Simran's writer Apurva Asrani who claimed that Kangana stole his writing credit. 
Just before her second release of the year, Simran, came the biggest of the biggest burst, when Kangana went to Rajat Sharma's Aap Ki Adalat with no holds barred. From Hrithik Roshan to Aditya Pancholi, she lambasted all of them and didn't mince a word while talking about her alleged relationship with Hrithik and Aditya. Kangana's Aap Ki Adalat left the film industry rattled and she came across as the 'desh ki beti' who got trapped by the big bad world of Bollywood. She spoke very less about the film and talked more about her relationships on the show.
Although, Kangana was critically-acclaimed for her performance, Simran failed to shine at the box-office. 
Kangana repeatedly talked about the male directors in the Hindi film industry who didn't welcome her suggestions and her wish to work independently because collaboration in films is a farce for female actors. 
Amidst the controversies, the Queen star took a break from ranting about the issues and rather focused on her upcoming project Manikarnika: The Queen of Jhansi where she is putting all her dedication and hard work, like always.
Claiming she would like to paint a positive image of her country during the talk, Kangana is currently preparing for her talk at Harvard Business School scheduled for February 2018.