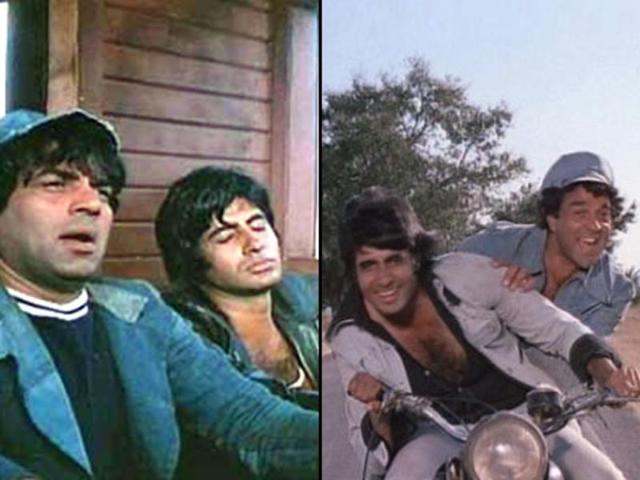 On 5th August, India is celebrating the spirit of friendship with full zeal and excitement. Falling on the first Sunday of the month August, friendship day marks the carnival of human friendships and beyond that. When it comes to celebrating a day, going out for lunch or partying in a club is a common notion. Isn't it? But this year, let's make the day larger. It's even easier than going out. All you have to do is, invite your buddies over and get some coke and popcorn. Download and listen to any of these Bollywood songs experience true friendship both inside and outside the screen.
Yeh Dosti Hum Nahin Todenge
The filmy anthem for friendship is from "Sholay" and has been sung by Kishore Kumar and Manna Dey. The iconic friendship song was picturised on megastar Amitabh Bachchan and Dharmendra.
Tere Jaisa Yaar Kahan
Another iconic friendship song filmed on Big B and Amjad Khan in the film "Yaraana". The fact that the two of them were close friends in real life really helped make this Rajesh Roshan composition come alive.
Diye Jalte Hain
The entire song was lip-synced by Rajesh Khanna in Hrishikesh Mukherjee's "Namak Haraam".
Bane Chahe Dushman Zamana Hamara
Kishore Kumar and Mohammad Rafi in one of their last collaborative songs in Raj Khosla's "Dostana". Rafi passed away soon after the recording of this song. The two were barely cordial to one another and yet able to imbue so much warmth and camaraderie in this Laxmikant-Pyarelal composition.
Yaari Hai Imaan Mera Yaar Meri Zindagi
Yet one more ode to friendship, the song was picturised on Pran. In "Zanjeer", Big B's stern no-nonsense character allowed no musical expression of love (to Jaya Bachchan) or friendship (to Pran).
Meri Dosti Mera Pyar
Filmed on the then-unknown Sudhir Kumar in the 1964 film "Dosti", the song written by Majrooh Sultanpuri has become an anthem for friendship that lingers in the jukebox of the mind to this day.
Saat Ajoobe Is Duniya Mein
It is picturised on Dharmendra and Jeetendra. Sung by Mohammad Rafi and Mukesh for the film "Dharam Veer", the lyrics of the song are like – "Tode se bhi toote na yeh dharam-veer ki jodi".
Imli ka Boota
A nursery-rhyme like friendship song in Subhash Ghai's "Saudagar" filmed on the two veteran actors Raj Kumar and Dilip Kumar. The number has a certain childlike innocence and unspoilt charm about it.
Ek Rasta do Rahi, Ek Chor Ek Sipahi
When Amitabh and Dharmendra reprised their buddy talks from "Sholay" in "Ram Balram", the result was this zingy friendship song sung by Mohammad Rafi and Kishore Kumar.
Doston Mein Koi Baat Chal Jaati
A rare song that "dares" to explore the dark side of male bonding. When a deep friendship is torn apart what happens to the buddy-buddy feelings? Shashi Kapoor oozes cynicism as he hurls accusations at Rajesh Khanna in this song from Raj Khosla's "Prem Kahani".
A very Happy Friendship Day to all from India TV and family!