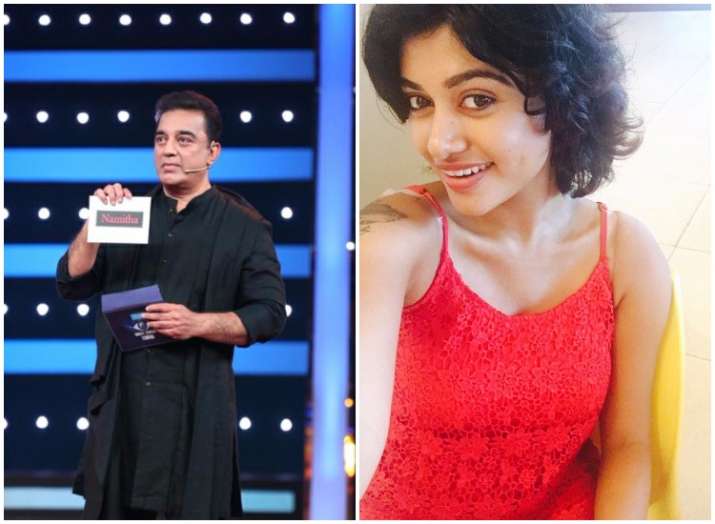 Bigg Boss Tamil, which started off with a bang on 25th June, is now one of the most watched programmes in the Indian television. With a dynamic host like Kamal Haasan, the reality show has garnered much attention. From hating Namitha to loving Oviya Helen, people can't stop talking about Bigg Boss, which has completed an entire month today. The show, which airs on Vijay TV will enter its 30th day tonight at 9 pm. So, before you watch it, here's a look at all the top trends of Bigg Boss Tamil.
Kamal Haasan's deep voice, classy attire and upbeat humour win hearts
Unlike Salman Khan in Bigg Boss, the popular actor Kamal Haasan hosts the Tamil version of the reality show is often clad in sophisticated kurtas. While his clothing sense is spot on, his deep voice awakens a deep sensation particularly when the Sadma actor calls out the name of the evicted contestant. Last week when Namitha got voted out from the Bigg Boss house, the actor spoke to her.
Namitha seemed very happy about leaving the house which she described as a "five-star jail". Meanwhile, The Bigg Boss Tamil host responded to her with an absolute humour. "There were other five-star jails", he said referring to the alleged special treatments provided to former AIADMK general secretary VK Sasikala in the Bengaluru central jail. Have a look at Bigg Boss Tamil trailer which was shared by the cool host himself.
பத்திரிக்கையாளர்களும் மற்ற ஊடகத்தாரும் கண்டு களித்த ட்ரெய்லர் இப்போது இங்கேயும். அன்புடன்
Big boss trailer for you on twitter. With love pic.twitter.com/L4UUybCCJE

— Kamal Haasan (@ikamalhaasan) May 26, 2017
Oviya Helen's innocence and positive character attract support
Oviya Helen, who starred opposite Prithviraj in the Malayalam film Kangaroo, has been receiving enormous support from the audience. In fact, people have started the Save Oviya Movement and, a group called OviyaArmy has quickly made its way to Facebook and Twitter. In Bigg Boss Tamil, Oviya seems to be cornered by fellow inmates -Namitha, Gayatri and Juliana. However, her positive personality has been gaining good vibes across the nation. 
Oviya, who has been nominated for elimination thrice always emerges as the clear favourite of the masses. People love her to the core and, support her to the fullest.
Bigg Boss Tamil airs on Vijay TV from Monday to Friday at 9 pm and on weekends you can view the reality show at 8: 30 pm.
Read More
This is why Bigg Boss Tamil contestant Oviya Helen is trending
Bigg Boss Tamil: Namitha gets eliminated and Oviya wins hearts
For more entertainment updates, folllow our Facebook page