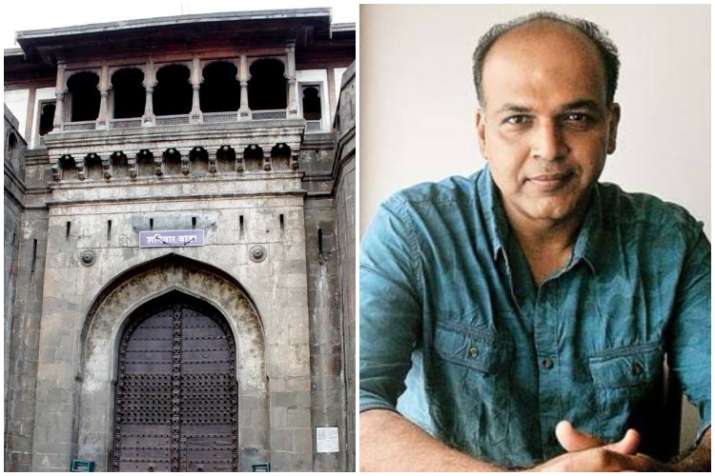 Magic is bound to happen when Ashutosh Gowariker is coming up with a historical film. The majestic film sets and realistic locale are the trademark of a typical Gowariker film. Art director Nitin Desai and Ashutosh Gowariker have come together to create magic once again and this time they've upped the level of their craft by several notches. Earlier, they recreated the Agra Fort for Jodhaa Akbar and now they are constructing the majestic Shaniwar Wada for his upcoming film Panipat.
The palace of Peshwa, Shaniwar Wada is of great historical importance for the story of Panipat. Hence, the duo has taken the task in their hands to recreate the splendid wada at N.D Studios. It will be built in the actual scale and the splendour of the original Shaniwar Wada in Pune. The construction has begun on the auspicious day of Akshaya Tritiya, which was on Wednesday. The filmmaker performed the Pooja on Wednesday morning with his wife Sunita and art director Nitin Desai.
Construction BEGAN yesterday on the auspicious day of #AKSHAYTRITIYA!
Recreation of the 'Shaniwar Wada' to original scale!
@nitindesai666 @agpplofficial @duttsanjay @arjunk26 @kritisanon @rohitshelatkar @visionworldfilm #sunitagowariker #Panipat pic.twitter.com/WoH7jjpadu

— Ashutosh Gowariker (@AshGowariker) April 19, 2018
"I am excited to work with Ashutosh Gowariker again after Jodhaa Akbar. The battle of Panipat is one of the most important chapters of our history and I am glad to be a part of this project. Shaniwar Wada was a stunning place and I am excited to recreate this magnificent structure for the film."
Construction begins... Ashutosh Gowariker and award winning art director Nitin Desai to recreate the majestic Shaniwar Wada for the historical #Panipat at ND Studios, Karjat... Stars Sanjay Dutt, Arjun Kapoor and Kriti Sanon... 6 Dec 2019 release. pic.twitter.com/a14utE6In4

— taran adarsh (@taran_adarsh) April 19, 2018
Ashutosh Gowariker's Panipat is based on the Third Battle of Panipat that took place on January 14, 1761 at Panipat. The epic battle was fought between the Maratha Empire and the invading forces of the King of Afghanistan, Ahmad Shah Abdali, supported by the Rohilla Afghans of the Doab, and Shuja-ud-Daula, the Nawab of Awadh.
The film is slated to release on December 6, 2019.