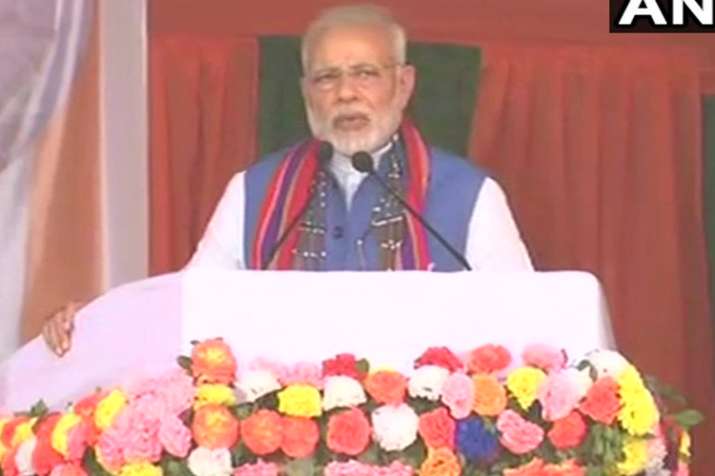 In order to give a push to BJP's victory prospect in poll-bound states, PM Narendra Modi on Thursday addressed an election rally in Nagaland's Tuensang, about 60 km from capital Kohima. There are six assembly seats in Tuensang district in the eastern part of Nagaland. BJP has fielded candidates on four seats while its ally Nationalist Democratic Progressive Party (NDPP) nominees are in the fray on the rest two constituencies. 
Heavy security arrangements were put in place ahead of the prime minister's public rallies in the hill states. The entire town has been kept under tight vigil and district authorities are leaving no stone unturned to ensure that no law and order issue crop up the area, a senior official in the district administration said.
PM MODI ADDRESSES RALLY IN POLL-BOUND MEGHALAYA: HIGHLIGHTS
04:22 pm: We have introduced Ayushman Bharat scheme which entitles a family to claim 5 lakh per year towards medical exigencies: PM
04:14 pm: Though the current CM is a doctor himself, healthcare sector is in bad shape. Women are forced to deliver babies at home which poses a great threat to the lives of mother and baby: PM Modi
04:12 pm: We approved construction of 21,000 houses in Meghalaya and provided more than Rs 100 crore to the government. But they were unable to build the required number of houses: PM
04:04 pm: We will ensure more and more tourists arrive here. This will generate income opportunities for people: PM Modi
04:02 pm: Meghalaya has immense potential for the growth of tourism sector but the state lacks tourists. No efforts were made ever to strengthen the sector: PM
03:57 pm: We want to further strengthen the 'Act East Policy.' This will open up opportunities for people in the state and in the entire Northeast: pm Modi
03:55 pm: The ruling government is recognized for scam in the recruitment of teachers: PM Modi
​03:53 pm: We have planned to spend around Rs 180 crore for building of new Shillong airport. Thus, it will improve the possibilities of industrial development besides generation of employment for common man: PM Modi
​03:50 pm: Under PMGSY, we provided around Rs 470 crore for construction of 1100 KM of road. However, Meghalaya government was unable to spend 50% of the work: PM
PM MODI ADDRESSED RALLY IN POLL-BOUND NAGALAND: HIGHLIGHTS
12:05 pm: Today, organic farming has a big market globally and entire Northeast has immense potential for it. We are encouraging farmers to shift towards organic farming. This will add to their incomes.
12:04 pm: We want to ensure power for all in Nagaland. We have brought the 'Saubhagya Yojana' which will provide electricity to all homes. Till date, more than 10 lakh LED bulbs have been distributed in Nagaland, reducing consumption of power.
12:03 pm: Connectivity is a huge challenge in Nagaland. We are working relentlessly towards it. In less than 4 years, we have added 500 km of National Highways. We have also planned to invest more than Rs 10,000 crore in the roads of Nagaland.
12:02 pm: Our government will spend around Rs 1800 crore for making Nagaland's capital Kohima a Smart City.
11:52 am: We would ensure that the funds released for your state reaches you. With the help of technology, we will plug the loopholes which are causing wastage of public money.
11:51 am: My vision for the Northeast is transformation by transportation.
11:45 am: The funds provided by the centre should reach the people it's intended for. A prime minister of India had once stated that villages received only 15 paise out of Rs 1 from the centre. With determination, we need to change this situation.
11:40 am: The NDA government is giving special priority to the Northeast. We are making efforts to furthering prosperity in the Northeast.
11:38 am: There is need of a strong and stable government in Nagaland that will work for the development of the state.
11:20 am: From here, PM Modi will go to Meghalaya to address a rally in West Garo Hills district, considered as the Congress bastion since statehood in 1972. In Meghalaya, the saffron party has fielded candidates on 47 seats out of a total of 60. BJP is also making strong efforts to throw Congress out of power.
11:15 am: The rally at Phulbari town will be Prime Minister's second campaign meeting in the state to drum up support for the BJP candidates in the assembly elections.
11:01 am: His first was when he began his campaign from here in December last year where he had also inaugurated the Shillong-Nongstoin-Tura highway.