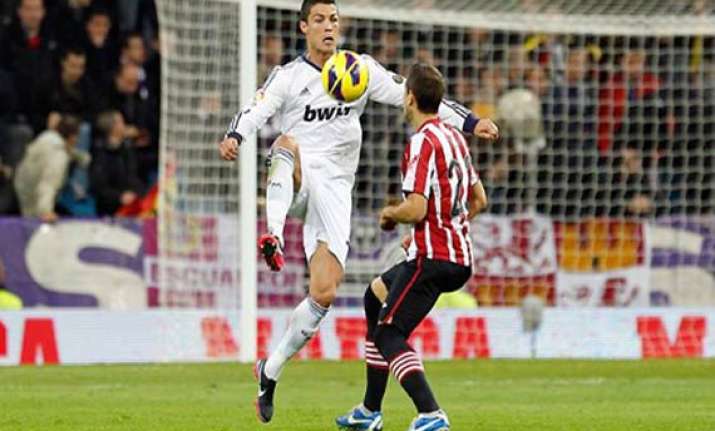 Madrid: Atletico Madrid took full advantage of Barcelona's rare slip-up as it pummeled Real Sociedad 4-0 on Sunday to take sole possession of the lead in the Spanish league for the first time this season.
David Villa, Diego Costa, Miranda, and the newly arrived Diego scored the goals that put Atletico clear at the top of the standings, having shared the lead with Barcelona for much of the campaign.
Atletico holds a three point advantage over Barcelona and Real Madrid after Athletic Bilbao rallied to draw 1-1 against Madrid, which finished without Cristiano Ronaldo after he was red carded.
Substitute Ibai Gomez's volley canceled out Jese Rodriguez's opener for Madrid, which played the final 15 minutes a man down after Ronaldo was sent off for swiping his hand across Carlos Gurpegi's face following a shove from his opponent. The contact seemed light, but Gurpegi fell to the ground as if he'd been hit hard.
Atletico honored former player and coach Luis Aragones before the match and fed off the emotion at the Vicente Calderon Stadium to boost its attempt to break the Barcelona-Madrid monopoly with a first championship since 1996.
Barcelona lost 3-2 to Valencia on Saturday, and Atletico did not waste the opportunity to go top by itself for the first time since that championship-winning season. Not since Valencia's league title a decade ago has a club other than the big two won the Spanish league.