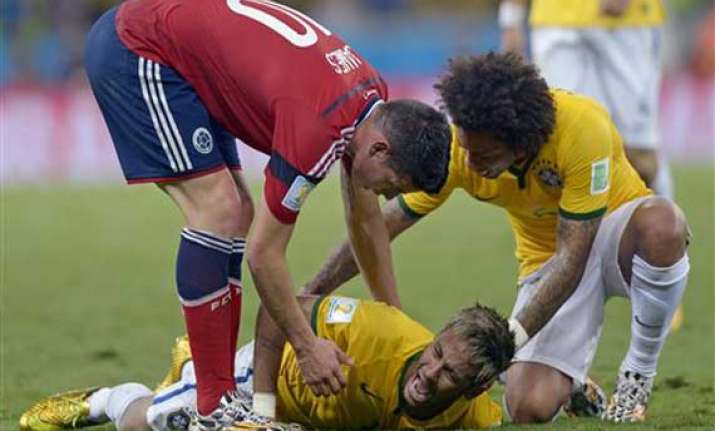 Rio De Janeiro: The fireworks celebrating victory had barely subsided when the disastrous news came through for Brazil: Neymar is out. The star who lit up the World Cup with his skill and sunny temperament fractured a bone in his back. The only way for Brazil to win now will be without him.
The home side muscled past Colombia 2-1 on Friday into the semifinals. But making the step from there to the July 13 final will be much harder for Brazil without its 22-year-old goal scorer.   
Team doctor Rodrigo Lasmar said Neymar fractured his third vertebra when he was kneed in the back by Colombia defender Juan Camilo Zuniga. Brazil has shown grit under the intense pressure of home expectation. But getting past its next opponent -- Germany -- will be a big task without the genius of Neymar.   
"He will not be in condition to play, he will need a few weeks to be fit again," Lasmar said. "He is very, very sad."   
After swashbuckling, end-to-end games in earlier stages of football's showcase, Friday's quarterfinals were like having to eat one's greens. Neither match will be remembered as a classic. But they were instructive. The enduring image will be that of Neymar being gingerly rolled onto a stretcher and carried away in pain.   
Incredibly for teams that have won eight World Cups between them, the Germany-Brazil semifinal next Tuesday in Belo Horizonte will be just the second time the nations have met at the showcase tournament. Brazil won the first meeting: 2-0 in the World Cup final of 2002.   
As well as Neymar, Brazil will also be missing Thiago Silva, its captain, after he picked up his second yellow card of the tournament for fouling Colombia goalkeeper David Ospina.   
Before word of Neymar's injury filtered through from the coastal city of Fortaleza, there had been sighs of relief across South America's largest nation as Brazil sent home one of the most exciting teams and its electric young talent, James Rodriguez.   
On Rio's Copacabana beach, joyful fans jumped and screamed.   
"It was so much suffering, but I'm very happy!" said 61-year-old Vera Regina, decked out in Brazil's yellow, green and blue colors. "My heart is beating so fast!"