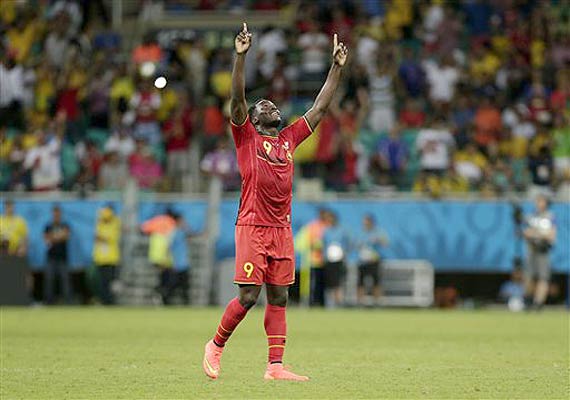 SALVADOR, Brazil :  Romelu Lukaku had a point to prove at the World Cup. After Belgium missed countless chances during the 90 minutes of regulation time in the second-round match against the United States on Tuesday, the powerful striker came off the bench and soon set up the opening goal for Kevin De Bruyne.
As the U.S. pressed for an equalizer, De Bruyne swiftly returned the favor to Lukaku, who made it 2-0. Despite scoring key goals in World Cup qualifying, Lukaku had a disappointing start in the group matches and was dropped from the starting lineup. "The media tried to take Romelu down after the first round, but I was convinced that he would still be able to make the difference at this World Cup," Belgian coach Marc Wilmots said after his team secured a spot in the quarterfinals.   
Wilmots was the one who went looking for an alternative to Lukaku. He brought in the 19-year-old Divock Origi, who scored the winner against Russia and provided the shot which allowed Jan Vertonghen to tap in the winner against South Korea.   
Origi started against the United States, but missed several scoring chances before he was replaced by Lukaku."I realized I should not put too much pressure on myself and just do everything needed to make the team win," Lukaku said. "And it makes me so happy that this is the way it went today."   
"When the other teams tire, we switch into a higher gear," he added. "It is looking good for the future." Lukaku, 21, has had to deal with disappoint before and it hardened him for his World Cup experience. He was a teenage standout at Anderlecht with his speed and bulk and was quickly spotted by foreign scouts.   
At 18, he joined the team of his boyhood dreams, Chelsea, but things quickly turned sour in London. He failed to get much playing time and was quickly sent on to West Bromwich Albion. At first, he proved he could rally from disappointment and thrived in the industrial midlands, scoring 17 goals.   
He briefly returned to Chelsea early last season, long enough to miss the decisive penalty in the UEFA Super Cup against Bayern Munich, now run by coach Jose Mourinho's nemesis Pep Guardiola. But soon Lukaku was on his way for another loan spell, this time at Everton, where again he rebounded to start scoring freely.