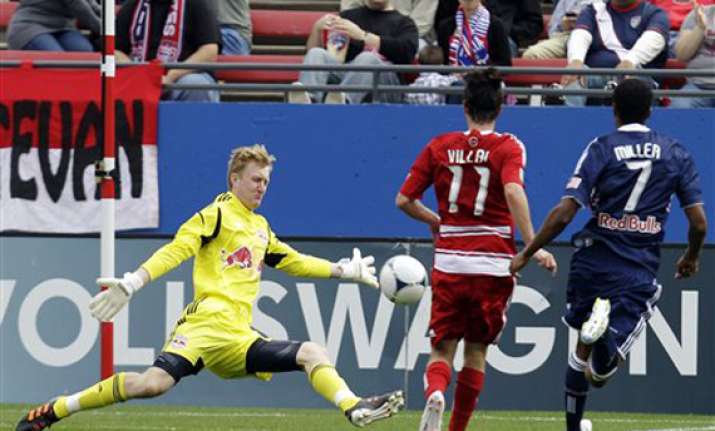 Frisco, Texas, Mar 12: Zach Loyd and Ricardo Villar scored to give FC Dallas a 2-1 win over New York Red Bulls in their opening match of the Major League Soccer season Sunday.

Loyd opened the scoring in the 11th minute, sending a shot into the left corner of the net.

Villar's gave Dallas a 2-0 lead in the 61st minute after collecting a pass Blas Perez and chipping the ball over the head of keeper Ryan Meara when he came out of the box to try and defend the shot.

New York's Kenny Cooper scored in the 78th minute.At Carson, California, Andre Hainault scored in extra time to lift the Houston Dynamo over Chivas USA 1-0.

Dan Kennedy made seven saves for Chivas, but a late rebound fell to the foot of Hainault, who fired it past the goalkeeper.

Chivas had its best scoring chance in the 70th minuteas second half substitute Ryan Smith sent in a cross to a waiting Juan Pablo Angel, who headed the ball just over the net of Dynamo keeper Tally Hall.