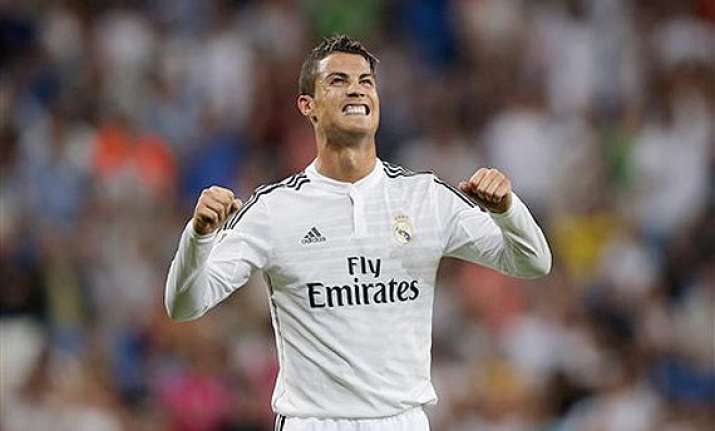 BARCELONA, Spain : Cristiano Ronaldo scored from long range to seal Real Madrid's 2-0 victory over the promoted Cordoba on Monday as the European champions made a winning start to the Spanish league.
Karim Benzema headed in the opening goal on the half-hour mark of a first half that Madrid dominated under the direction of new signing Toni Kroos. But Cordoba surged forward in the second half, turning its first game in the topflight in 42 years into an evenly matched contest against the Champions League winners.   
Ronaldo shook off an otherwise drab performance with a strike that only few can match when he blasted in a right-foot shot from well outside the area in the 90th. "We begin suffering, but with a win. So that's fine," said Madrid coach Carlo Ancelotti. "Cristiano isn't fully fit, like the rest of the group. But this week of work will help us in that sense."   
Ronaldo and the rest of Madrid were eager to rebound from its 1-0 loss at Atletico Madrid on Friday that cost it the Spanish Super Cup, and to match Barcelona's strong start from Sunday when Lionel Messi scored twice to beat Elche 3-0.   
Ronaldo, who only played the second half of Friday's loss as he nurses a left leg injury, started Monday's match but spent more time protesting than creating scoring opportunities.   
But when his chance finally came after Cordoba lost the ball in its half, the reigning world player of the year powered a bouncing strike that beat diving goalkeeper Juan Carlos.   
It was the Portugal forward's third goal in four games in all competitions to start the season after only scoring once in a disappointing World Cup. Ronaldo scored twice to give Madrid the European Super Cup in a 2-0 victory over Sevilla earlier this month. He then came up empty in the two legs against Atletico played last week.   
Ancelotti deployed a midfield of three playmakers in new signings Kroos and James Rodriguez along with Luka Modric. Kroos, who arrived from Bayern Munich this summer, guided Madrid's attack with the poise of a longtime veteran. His well-placed corner kick set up Benzema to thump his header in off the upright.   
Madrid pushed Cordoba back into its area for most of the first half except for an excursion that ended with striker Mike Havanaar firing the ball wide in the seventh minute. Havanaar had a great chance to level in the 44th when he headed wide from a corner kick.   
That set the stage for the second half, when Cordoba manager Albert Ferrer ordered his team to attack and its pressing forwards almost caught Madrid off balance several times.   
While Kroos shone, Madrid's more high-profile stars did not. Ronaldo and Gareth Bale went long stretches without getting involved as the game wore on. The clearest sign of Madrid's plight was Ancelotti's decision to pull Benzema in favor of holding midfielder Sami Khedira in the 77th to bolster his defense against the modest rival that only folded after Ronaldo's goal.