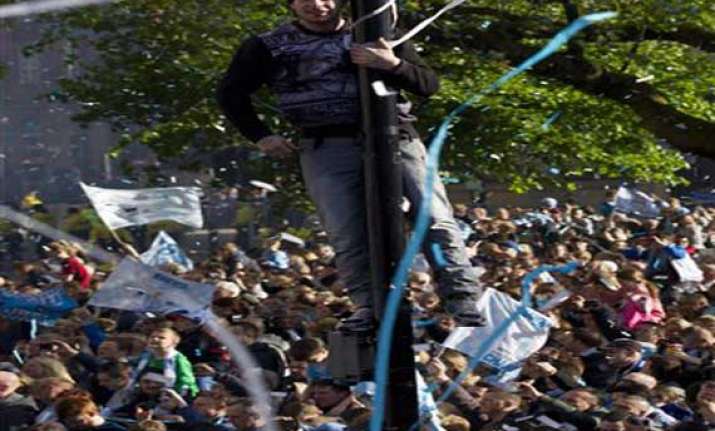 Manchester, England: Manchester staged a Premier League trophy parade for the fourth straight year on Monday when Man City players celebrated the club's second title in three years with an open-top bus tour through packed city-center streets.
With incessant morning rain giving way to blue late-afternoon skies, tens of thousands of City fans turned out to honor the team a day after its 2-0 victory over West Ham that clinched the league championship. City also won the League Cup in manager Manuel Pellegrini's first season in charge.   
Looking down through his sunglasses on flag-waving, horn-blowing supporters lining the streets, City captain Vincent Kompany said: "Manchester is blue today -- and it's a pretty sight."   
Fans climbed bus stands, road signs and store fronts for a view of the players as the bus, flanked by a vast escort of security guards, wound its way through the city on a mile-long trip. Midfielder Yaya Toure -- one of City's best players this season -- conducted chants on the top deck.   
The celebrations began with highlights of the season screened to fans in front of Manchester's Town Hall as team members showed off the trophy.   
City and fierce rival Manchester United have each won two of the last four Premier League titles.
The squad will fly to Abu Dhabi later Monday to meet owner Sheikh Mansour and play a post-season friendly against Al Ain on Thursday.