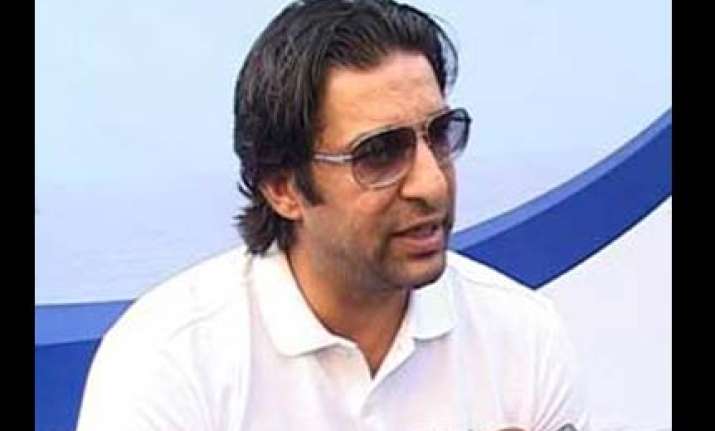 MUMBAI: The Indian cricketers should make most of the "excessive" cricket rather than complain about it, feels former Pakistan captain Wasim Akram.
"It's a boon, not a punishment," he asserts.
On a short visit to India, Akram in a free wheeling talk with the TOI on Sunday termed the young and upcoming Indian players as "softies" and "spoilt" for their lack of enthusiasm and energy.
"In the 90s there used to be 10-12 Tests annually. I guess it's the same now. We also played 30-35 ODIs. There were no T20s or
IPL
then, but we played county cricket for a month each year. Today, there are so many opportunities and so much money that the players don't seem to care.
"The dream to represent the country for long doesn't seem to exist. Look at some of the young Indian bowlers. They breakdown every now and then. Last year, when I was involved with the IPL (Akram was bowling consultant for the Kolkata Knight Riders), I realised that the bowlers were happy bowling just 3-4 overs in the nets. I was amazed. Softies is the word to describe them. They are also spoilt and don't believe in working hard," said the 44-year-old.
Akram was also unhappy with young Indian batsmen
Rohit Sharma
and Robin Uthappa.
"They are so talented but where are they heading? Rohit has so much class, but when will he make an impact? It doesn't matter at what number you bat. At this age, he should show the world your worth. Uthappa too hasn't done himself any justice."
Akram, who would be commentating at the Champions League T20 in South Africa, rues the fact that his nation won't be represented.
"We were the ICC World T20 champions, but they haven't invited Pakistan. I wish our domestic T20 champs, Sialkot Stallions, were there. Our players are getting a raw deal, but it's not their fault," he said.
The bowling great feels that CL 2010 could act as a stepping stone for youngsters ahead of the 2011 World Cup. He, however adds that only those with good technique will excel.
"South African conditions will assist pace. If you are in Durban (the base for Mumbai Indians), the ball will seam and swing, more so if you are playing under lights. Only batsmen with good technique or experience will come good. Maybe a Kieron Pollard will do well because he hits straight. Those suspect against short-pitched and pacy stuff will struggle," said Akram.
He picked out
Dale Steyn
of Royal Challengers as the biggest threat.
"Steyn knows the conditions and he steams in every ball which very few bowlers do today. He will be unplayable in South Africa. Dirk Nannes and Shaun Tait will also be tough to negotiate."
Akram reckons the three Indian teams in the fray (Chennai Super Kings , RCB and MI) are all well balanced. "Most players in those teams have international experience, but I want MI to do well only because of Sachin Tendulkar.
"I idolise him and he's also doing exceptionally well as a captain. They also have a lot of youngsters and have two South Africans in
JP Duminy
and Ryan McLaren. That's an advantage.
"Having said that, RCB have loads of depth and a fierce competitor in Anil Kumble at the helm. They also have Jacques Kallis,
Ross Taylor
, Uthappa and Cameron White. The team whose batting clicks will win the competition," he stressed.
His best bet is still on young bowlers with pace and aggression. "The Champions League is staged for a short duration. It is quick and sizzling. High octane, I'd say. So the young Indian bowlers would do well to make the most of it."
While lamenting the lack of passion among current youngsters, Akram gave an example to emphasize it. "When I was young, I once bowled Mohammad Azharuddin at Nagpur. I still have those broken bails as souvenir. I hope the cricketers of today show us some of that passion."
Over 900 international wickets stand testimony to all that.