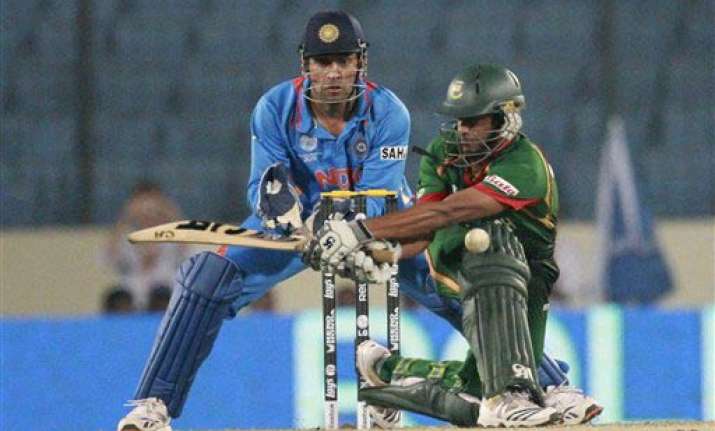 Mirpur (Dhaka), Feb 19: Bangladesh captain Shakib Al Hasan held his bowlers responsible for the 87-run loss to India in their opening ICC World Cup match at the
Sher-e-Bangla Stadium here today.Bagladesh created a flutter in the 2007 Caribbean World Cup when they upset India by five-wickets in a league match tothrow them out of the tournament in the first round.
But it was not to be a repeat of 2007 today as sent into bat Virender Sehwag (175) and
Virat Kohli
(100) produced scintillating batting display to guide India to an imposing 370 for four and help the visitors avenge their defeat in the last edition of the mega-event.
"We couldn't bowl too well. We bowled too many boundary balls and that cost us the game," Shakib, who scored a 50-ball 55, said at the post-match press conference.
"Indian batsman did really well and took the game away from us. But at one stage during chasing we thought we can win the game," he said.
Bangladesh today dropped former captain and experienced batsman Mohammad Ashraful for the opening match against India but the skipper said the decision would have made hardly any impact on the outcome of the match.
"I think it was the best possible combination. For our openers the plan was simple, they had to bat properly and keep going. Tamim (Iqbal) and Junaed (Siddique) tried to do that.They didn't play too many bad shots and there wasn't many slogs. We almost got to 300," Shakib said.
Asked whether Bangladesh missed pacer Mushrafe Mortaza,who was not selected in the World Cup squad due to injury,Shakib said: "He is not in the squad but it wouldn't have been different if he was.
"The fast bowlers did well in the last 12 months and I am sure they'll come back strongly. Shafiul (Islam) was maybe slightly nervous and so he couldn't execute the plans.
He bowled too many boundary balls.Asked whether whether his decision to put India into bat backfired, the Bnagladesh captain said, "I still think my decision was right." PTI