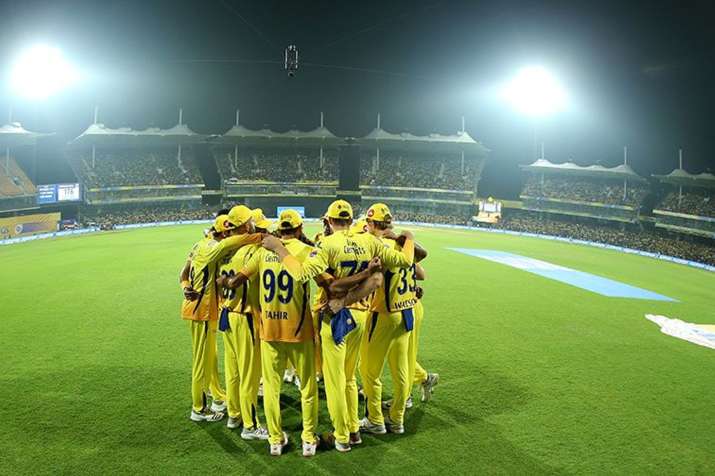 IPL 2019, Qualifier 2: Chennai Super Kings (151/4) beat Delhi Capitals (147/9) by 6 wickets
23:01 IST: FOUR! 
And CSK have reached the final of the
IPL
for a record eighth time in their history! 
22:58 IST: OUT! Anti-climax for CSK fans as Dhoni dismissed! The crowd is stunned. Dhoni holes out with just two more needed. Ishant gets a wicket by bowling it short. Dhoni pulls it across the line in front of square leg and Paul catches it near the fence. Sharma raises his hands in celebration.
22:54 IST: FOUR! Another one for Rayudu. Delhi Capitals have been poor with the ball this evening. Another four needed for a win! Short in length and wide outside off, Rayudu latches onto it and whacks it through point for a crackling boundary.
22:53 IST: FOUR! Rayudu scores another as CSK now needs only 8 to win! Eased away! Not for the first time Paul has erred in his line this evening. Goes down the leg side and it's easily flicked down to fine leg for a boundary.
22:49 IST: FOUR! Dhoni off-the-mark with a four! Ziva likes that shot and she is seen clapping for Daddy Dhoni. Short in length and sliding down the leg side, Dhoni turns inside the crease and helps it on its way to fine leg for a boundary.
22:44 IST: OUT! Suresh Raina bowled! Raina looked to cut the ball towards cover but an inside-edge leads the ball straight into the stumps. Third wicket down as we go into the strategic time-out. CSK 127-3 in 16 overs 
22:43 IST: FOUR! Ambati Rayudu hits his first four of the innings! 
22:32 IST: OUT! Watson departs after a brilliant half-century! Amit Mishra finally gets his man as Watson eyed the long-off again. But just like his opening partner, he has also done his job. The required run rate is just over 5 and Chennai only have to bat sensibly from here. Nothing fancy needed.
22:30 IST: SIX! 50 for Watson! Watson has become the first man in 2019 to score 1000 T20 runs with that hit.
22:29 IST: SIX! 100 up for CSK! A slower delivery is given the perfect treatment from Watson as CSK are now cruising towards victory.
22:27 IST: FOUR! Watson takes charge after Du Plessis' departure! Paul is getting too predictable with his slower ones. The length is short, Watson picks it very early, waits on the back foot like a hawk and then boom... Thwacked over mid-wicket for a boundary.
22:26 IST: SIX! Watson starts the over with a six! Watson has sent one more packing into the stands! A short delivery on middle and leg, sitting up nicely for the batsman, Watson rides the bounce and dismisses it over backward square leg. 59 needed off 53 balls.
22:20 IST: OUT! Du Plessis gone for 50! Boult returns and gets rid of du Plessis. But the South African has already done the damage with his outstanding knock. A short of a length delivery on middle, Faf shapes up for the pull shot and connects well also. But his shot lacks the desired elevation and Keemo Paul at deep mid-wicket takes a good low catch by going down across to his right.
22:18 IST: SIX! Watson hits Axar for a six!  This one has disappeared! Watto power! Fuller delivery, fired on leg, Watson kneels and smokes it behind square leg for a maximum. Goes deep into the crowd, Chennai are cruising, 67 needed off 61 balls. CSK 81-0 in 10 over
22:17 IST: 50 for Faf du Plessis! This could well be a match-winning innings from the CSK opener.
Munro's elbow indeed was in contact with the ropes. A good effort but in vain. Back of a length delivery shaping back into the batsman and staying low. Du Plessis stays back to chop it down but it kisses the bottom edge and runs behind. Pant tries to stop it with a dive to his right but ends up parrying it past short third man. Munro gives the chase, tries to pull it back with a slide but as mentioned earlier, his elbow was touching the rope. 16 from the over.
22:13 IST: DROPPED! Colin Munro drops Shane Watson! Prithvi Shaw was nearer than Munro but didn't attempt to take the catch. Poor decision-making from the youngster! CSK 72-0 in 9 overs.
22:12 IST: FOUR! Cheeky scoop from Shane Watson! Paddled away! Full and angling down the leg side, Shane kneels down and thumps his sweep shot fine down the leg side for a boundary.
22:12 IST: FOUR! Du Plessis ends the over with a four. Munro's elbow indeed was in contact with the ropes. A good effort but in vain. Back of a length delivery shaping back into the batsman and staying low. Du Plessis stays back to chop it down but it kisses the bottom edge and runs behind. Pant tries to stop it with a dive to his right but ends up parrying it past short third man. Munro gives the chase, tries to pull it back with a slide but as mentioned earlier, his elbow was touching the rope. 16 from the over.
22:08 IST: FOUR! This was a gift from Paul. First boundary for Shane Watson! First boundary from the Aussie's bat. Keemo once again loses his radar. Serves a juicy full toss on the pads and Watson has no qualms in deflecting it down to fine leg for a boundary. CSK - 53-0 in 7.3 over 
22:07 IST: FOUR wides from Keemo Paul! This is the last thing Delhi Capitals want at this stage. CSK - 53-0 in 7.1 over 
22:04 IST: FOUR! Du Plessis hits Mishra for a four to end the over! This one races away to the fence in a flash! Loopy and full on off, it's actually too full and Faf does well to sweep it firmly through square leg for a boundary. 100 needed off 78 balls.
21:57 IST: FOUR! That's third in a row for the South African! Hat-trick of boundaries. It appears Ishant got one over too many in this appeal. Serves it short and on middle, du Plessis sits back inside the crease and muscles his pull shot over mid-wicket. 23 runs off the last 9 balls.
21:55 IST: FOUR! A risky push but far from the Fly slip! Boundaries are coming thick and fast. Suddenly, Chennai are on the charge, mainly due to Faf du Plessis. Width on offer outside off, the length is short and Faf slaps it through the line. It's aerially but wide of the diving short third man fielder for a boundary.
21:55 IST: FOUR! A perfect on-drive from Faf! Faf is motoring now! Receives a short delivery around leg and he eases his pull shot behind square leg. Fine timing and placement, and the fielder in the deep has no chance of cutting it off.
21:53 IST: SIX! The South African batsman has now decided to escalate the run-rate as he hits a clean six towards mid-off! Goodness me, what a shot! We saw Rutherford playing a similar shot against Harbhajan earlier. A flatter delivery, in the line of the stumps, du Plessis moves back inside the crease and rockets it powerfully over extra cover. It keeps on going, going and flies over the fence. Du Plessis made that shot look so easy.
21:52 IST: FOUR! Faf du Plessis finally opens his arms off Axar Patel! Finds the gap this time! Axar tries his luck again with a shorter one outside off, du Plessis rocks back and slaps it through the gap between point and cover-point for a boundary.
21.12 IST: Deepak Chahar to Amit Mishra, EXCELLENT EFFORT FROM FAF DU PLESSIS! But has he hurt his shoulder? A full ball, Mishra swings this over long on. Faf du Plessis runs to his right, dives, takes the catch but then realizes that he is tripping over the ropes. He pushes the ball back, mid-air and saves four runs for his side.
21.10 IST: Deepak Chahar to Rishabh Pant, OUT! Delhi's last hope to reach over 140 is gone. A very low full toss outside off, Pant looks to play it across the line and smack it over long on. He does not get the timing on it. Bravo who is inside the rope, runs to his left and takes a good catch jumping high. Chahar gets his second of the evening. A well built innings from Rishabh Pant comes to an end without the final flourish.
21.04 IST: OUT! Timber! Lock, stock and barrel! Corker of a yorker from Bravo and the leg stump has gone for a walk. A great over this from Bravo. He bowls a perfect yorker on leg pole. Paul has no option but swing his bat at everything as the run rate is too low. He misses but Bravo does not. The leg stump goes for a toss. Bravo is up in celebration and Keemo walks back with his head down. Bravo removes Paul for 3. DC 119/7 in 17.5 overs
21.00 IST: Something is happening. Ricky Ponting is having an animated discussion with reserve umpire Anil Chaudhury. Okay. So here is the scenario. In the previous over, Jagadeesha Suchith was seen running in and helping Rishabh Pant with a new grip.
20.59 IST: Imran Tahir to Keemo Paul, Full and around middle, Paul does not pick the wrong 'un and swings wildly. The ball runs off the inner half of the bat through square leg and the run is taken.
20.54 IST: Tahir to Pant, SIX! A catch taken but Chahar has stepped over the ropes! Imran Tahir was ready to run a marathon to celebrate his second wicket but cannot do so. Full and outside off, the googly, Pant looks to heave this across the line but gets a massive top edge. Deepak Chahar settles himself at the ropes and takes the catch. DC 114/6 in 16.4 overs
20.53 IST: Imran Tahir to Rishabh Pant, FOUR! Perfect bisection! Full and outside off, Pant gets down and sweeps this hard. Deep square leg runs to his right, mid-wicket runs to his left in the deep but the ball splits them perfectly. DC 108/6 in 16.3 overs
* Keemo Paul walks in next.
20.51 IST: Harbhajan Singh to Sherfane Rutherford, OUT. Delhi Capitals have lost their sixth wicket. Taken at short third man! There goes one of the hitters. Harbhajan Singh completes 150 League wickets. Only the 4th player after Malinga (169), Amit Mishra (156) and Piyush Chawla (150) to do so. DC 102/6 in 15.5 overs
20.49 IST: Harbhajan to Rutherford, SIX! Maximum off the backfoot! Unbelievable! 100 up for Delhi. They have crawled here. DC 101/5 in 15.2 overs
20.46 IST: 5 overs left, 5 wickets in hand. Can Delhi reach 150 from here? More, if Pant hangs around for a while. If he departs quickly, Chennai might eye a target of 10-15 runs lesser. We have one over of Chahar, one of Harbhajan, 2 of Jadeja and one of Tahir left. So Dhoni is sorted. Bravo has one too, if needed. Don't think Thakur will bowl again. So that brings us to the question - whom will Pant and Rutherford target?
20.41 IST: Dwayne Bravo to Rishabh Pant, NO BALL! A beamer from Bravo and Pant mistimes it to long on. A run taken.
20.39 IST: Dwayne Bravo to Sherfane Rutherford, That has hurt. Rutherford hammers this straight back and Pant tries to get his left leg out of the way but the ball bounces and hits him smack on the left boot. Rishabh hobbles across to the other end for the run. The ball goes to long off.
20.36 ISt: Imran Tahir to Sherfane Rutherford, NOT OUT, FOUR LEG BYES! Take a bow, Bruce Oxenford. Full and outside off, spinning in, Rutherford looks to defend but misses. The ball hits the pads and Tahir is halfway down the pitch, almost charging towards the umpire in an appeal. Oxenford stays put and Tahir now walks towards Dhoni. MS does not actually want to take it initially but then consents to go with Imran. Impact looks to be question but Ball Tracker shows it to be fine. However, here comes the twist. It is projected to bounce over the stumps! Review lost for Chennai. Can't believe that it is going over.
* Has the 6th wicket fallen? Tahir reckons this is out. Dhoni is cautious. The review has been taken and we are going upstairs. 
* Sherfane Rutherford walks in now.
20.32 IST: Bravo to Axar, OUT! Axar back in the hut and Delhi lose half their side. This is going from bad to worse for the Capitals as Chennai run riot. DC 80/5 in 12.5 overs
* Axar Patel walks in at number 6, replacing his skipper.
20.25 IST: OUT! The skipper is gone and Tahir is on his victory lap! Iyer is gone and Delhi are going downhill. Floated outside off, slightly slower, but Iyer is way too quick in bringing out his slog sweep. That goes against him. A massive leading edge is induced and it goes high in the air. Suresh Raina circles under it, from backward point and takes it calmly. 4 wickets down in quick time. Delhi Capitals 75/4 in 11.3 overs
20.21 IST: Bravo to Shreyas, FOUR! Overpicthed, driven through the covers! DC 72/3 in 10.3 overs
20.17 IST: Tahir to Pant, FOUR! The flipper but Pant picks it early. Tossed up on middle, Rishabh gets down and scoops it over the keeper to the fine leg fence. DC 66/3 in 9.4 overs
* Tahir has come in the moment Pant has walked in. Big moment in the match.
* Here he comes. Rishabh Pant. What can we expect tonight? Boom or bust?
20.11 IST: OUT! Jadeja gets his first. Excellent start for Jadeja here. Jadeja flights it up on off, Munro looks to break the shackle and tries to slog sweep it over square leg. He does not time it well and it goes to Dwayne Bravo who runs to his right and takes an easy catch. Just the start Chennai would have wanted. Not the start Delhi were hoping for. Jadeja removes Munro for 27. Delhi Capitals 57/3 in 8.5 overs
20.07 IST: Harbhajan to Munro, FOUR! This time the length changes and so does the result. A bit fuller than the previous one, outside off, Munro punches this through the covers and the ball races away! DC 50/2 in 7.2 overs
20.02 IST: Ravindra Jadeja to Shreyas Iyer, Pitched outside leg, spinning away, a leading edge is induced towards cover.
* Ravindra Jadeja into the attack.
* Delhi skipper, Shreyas Iyer walks out to the middle at number 4, replacing Dhawan.
19.58 IST: OUT! Harbhajan Singh to Shikhar Dhawan, OUT! Caught behind! Harbhajan appeals but Gabbar walks! Big wicket again for Chennai. Quicker one, outside off, Dhawan looks to cut but is too close to the ball. Gets a feather behind which goes quickly to Dhoni and he fumbles. But he takes it in the second attempt and Bhajji starts to appeal but sportsman Shikhar walks. He knew he had edged it. So that is two big guns in the Powerplay. Delhi Capitals 37/2 in 5.2 overs
19.53 IST: Deepak Chahar to Colin Munro, The batsman tries flicking a ball that is down the leg side. No wide signalled.
19.51 IST: Harbhajan Singh to Colin Munro, TOP EDGE, SAFE! Full and around middle, CM looks to play the reverse sweep but gets a top edge. The extra bounce does him in and he gets more height than distance. Luckily for him, it lobs over Dwayne Bravo and lands wide of him at short third man. Two runs taken.
19.50 IST: Harbhajan to Munro, FOUR! Smacked away. That is a bad ball. Short and outside off, Munro uses the width and cuts it through the covers for a boundary! DC 30/1 in 3.3 overs
19.48 IST: Chahar to Munro, FOUR! This is what he has been sent to do. A length ball, around off, Munro comes down the track and bashes it down the ground, past the bowler through mid on. DC 25/1 in 2.5 overs
* Colin Munro comes in at No.3
19.45 IST: OUT! LBW! Looked high to the naked eye but Shaw is not a tall man. He looked to pull a length ball but the ball skidded on and hit him on the back thigh. Crashing into the stumps, as per the Hawk Eye. Chahar removes Shaw for 5. Delhi Capitals 21/1 in 2.3 overs
* REVIEW TIME! Chennai reckon that Shaw is out LBW. Chahar looks confident and Dhoni has decided to take the review. Looks high, does it? Nothing on the Ultra Edge, so no inside edge. And Hawk Eye shows... three reds!
19.43 IST: Shardul Thakur to Shikhar Dhawan, Interesting stance. Keeps his left leg well outside leg stump, then comes back to normal batting stance. Gets a length ball around middle, which Gabbar taps it towards point and scampers through for a single. 13 from that over. Not the comeback Thakur was looking for.
19.40 IST: Thakur to Dhawan, FOUR! Hat-trick of boundaries! A short ball, around middle, Dhawan just helps it through square leg. Fine leg starts to run to his right but eventually comes second best. DC 19/0 in 1.5 overs
19.39 IST: Thakur to Dhawan, FOUR! Excellent timing! Boy, this is looking a good pitch already. Full again, around off, Dhawan just pushes it straight back. He need not do anything more! Because the outfield does the rest as the ball races down the ground. DC 15/0 in 1.4 overs
19.39 IST: Thaur to Dhawan, FOUR! Down the ground and sails away for a boundary. FLAMBOYANT! Nice way to get going. Overpitched, around off, Dhawan just drives this straight back, past the non-striker, down the ground. DC 11/0 in 1.3 overs
19.36 IST: Chahar to Dhawan, FOUR! This time Shaw gets the reward for hitting the ball sweetly. Good length delivery on off, Shaw gets on his back foot and pulls it through mid-wicket for a boundary. DC 7/0 in 1 over
19.30 IST: Oops.... a false start. Chahar comes running in but at the time of delivering the ball, his left foot lands awkwardly and he does not release.
19.29 IST: The players are out for the clash. CSK take their place, Dhawan and Shaw out to open for Delhi, Deepak Chahar to open the attack. Let's get started!
19.04 IST: Playing XI's of today's clash
Chennai Super Kings (Playing XI): Faf du Plessis, Shane Watson, Suresh Raina, Ambati Rayudu, MS Dhoni(w/c), Dwayne Bravo, Ravindra Jadeja, Harbhajan Singh, Deepak Chahar, Shardul Thakur, Imran Tahir
Delhi Capitals (Playing XI): Prithvi Shaw, Shikhar Dhawan, Shreyas Iyer(c), Rishabh Pant(w), Colin Munro, Axar Patel, Sherfane Rutherford, Keemo Paul, Amit Mishra, Trent Boult, Ishant Sharma
A look at the Playing XI for #CSKvDC

Shardul Thakur comes in in place of M Vijay for #CSK. #DC field an unchanged side. pic.twitter.com/b18SNOzqtT

— IndianPremierLeague (@IPL) May 10, 2019
19.01 IST: The battle of captaincy is onn between experienced MS Dhoni and young Shreyas Iyer.
The @ChennaiIPL will take on the @DelhiCapitals in the Qualifier 2 of #VIVOIPL.

Which team are you rooting for to reach the finals?#CSKvDC pic.twitter.com/CTCe0egTPr

— IndianPremierLeague (@IPL) May 10, 2019
19.00 IST: Chennai Super Kings win toss, opt to bowl against Delhi Capitals at Vizag
The @ChennaiIPL win the toss and elect to bowl first against the @DelhiCapitals.#CSKvDC pic.twitter.com/7WlkVS5yge

— IndianPremierLeague (@IPL) May 10, 2019
Hello and welcome to our live coverage of the 2019 IPL Qualifier 2 as Chennai Super Kings take on Delhi Capitals at Visakhapatnam. The TOSS will take place at 7.00 PM IST while play will commence from 7.30 PM IST. Stay tuned for live updates. 
Brief Preview: After beating Sunrisers Hyderabad in Eliminator, Chennai Super Kings are the last hurdle for rejuvenated Delhi Capitals in their quest to enter maiden IPL final.  The battle is on between the young guns of Delhi and the experienced lions of CSK at ACA-VDCA Cricket Stadium. Delhi Capitals have done consistently well in all the departments in this IPL excluding a couple of odd games. On the other side, CSK batting has under a lot of scanners in this season, but their bowlers specially spinners have contributed vastly in their success. (READ FULL PREVIEW HERE)