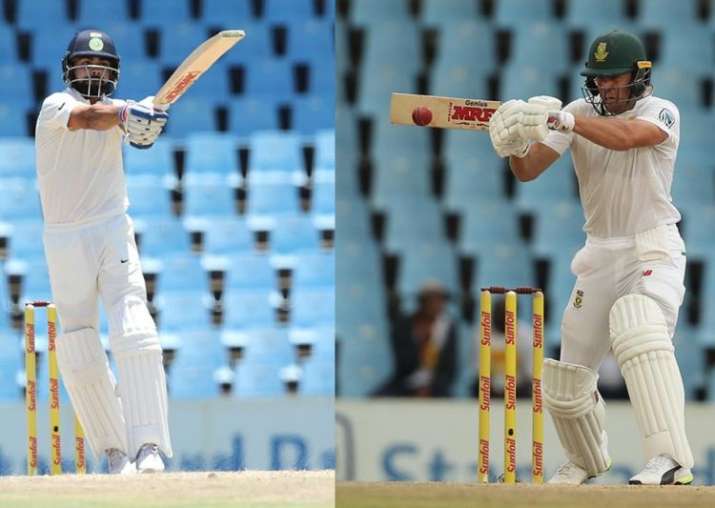 With bad light forcing stumps on Day 3, South Africa ground their way to 90/2 and a lead of 118 over India in the second Test at Supersport Park, Centurion, on Monday. AB de Villiers scored a fifty in reply to Virat Kohli's 153 that lifted India to 307 in their first innings. (Highlights)
AB de Villiers was 50 (not out) for South Africa, and Dean Elgar 36 (not out) at Centurion. The Test and series started to seep away from India on a cloudy afternoon where a thunderstorm interrupted play. (Full Scorecard)
At stumps, South Africa still had eight wickets left in their second innings and will be targeting a lead of 250 at least, which previous statistics show is difficult to chase in the fourth innings at SuperSport Park.
Should India fail to win at Centurion, it would end a run of nine straight series victories for the top-ranked team in the world. South Africa already lead 1-0 in the three-match contest between Test cricket's top two teams.
Whatever the doubts over India's No. 1 ranking, there were none over the class of Kohli, whose 21st Test century was a blend of grit and attacking intent and almost single-handedly took his team to 307 all out and just 28 behind South Africa's first innings score of 335. The next best score by an Indian batsman was 46, by opener Murali Vijay.
And while India continue to struggle in big series away from home, 11 of Kohli's 21 Test tons have been made outside India.
He hit 15 fours at Centurion, faced 217 balls, and was at the crease for over six hours in an effort to drag his team back into the contest.
Having arrived at 28/2, Kohli was the last man out a day later when he miscued a drive off fast bowler Morne Morkel and was caught at mid-on by de Villiers. His innings lifted India out of early trouble, saw it through another slump at 164/5, and nearly took India into the lead for the first time in this series.
It was the Indian captain's fourth Test century in his last seven Test innings.
But Kohli's frustration has also been apparent through the series, both in the field and while batting. In this Test he has regularly thrown his arms in the air at a missed catch or a poor piece of fielding from a teammate.
On Monday, he tossed his bat to the floor when batting partner Hardik Pandya was run out for 15 for the day's first wicket and a crucial breakthrough for South Africa. Pandya carelessly failed to ground his bat despite it being over the crease when a throw by Vernon Philander crashed into the stumps.
Kohli's only real help on the third day came from Ravichandran Ashwin, who hit seven fours in his 38 and stuck around with Kohli for nearly 15 overs in a partnership of 71 for the seventh wicket. When Ashwin went to an edge to South Africa captain Faf du Plessis at slip off the bowling of Philander, Kohli's reaction was to slam his bat into his pad at the non-striker's end.
India's hopes did briefly brighten before the rainstorm when Jasprit Bumrah took two early wickets in South Africa's second innings, removing both Aiden Markram and Hashim Amla for 1 inside the first six overs to have the Proteas in deep trouble at 3/2.
De Villiers and Elgar settled South Africa either side of the thunderstorm, though, taking the lead past 100. The gloom set in again for India.
A lead in excess of 250 would be tough for India at SuperSport Park and could prove to be series-winning for South Africa.
The highest fourth-innings score at Centurion is 251/8 by England in 2000, although that was in the discredited Test where both teams forfeited innings at the suggestion of South African captain Hansie Cronje.
After that, England's 228/9 in 2009 is the next highest.
(With AP inputs)