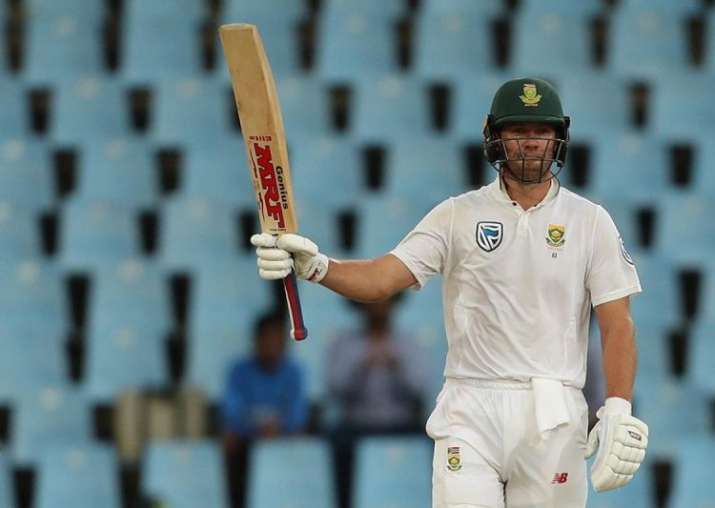 Highlights India vs South Africa 2nd Test, Day 3: After Tea, we had only 10 overs possible, that too in a couple of instalments. Even in that passage, a chance went down. This innings of Elgar will be remembered for him coming out with his dancing shoes on and not the sports one. That phase would have culminated with his dismissal but Patel was too generous or, lazy shall we say, as he didn't go for it. The southpaw has done well to string an uneaten 87-run stand with de Villiers, who walked in when his side was in a mush. The former skipper has done well to help them out of it, going past 50 for the 42nd time in this format. Both of them have helped the lead swell to 118. Earlier in the day, the tourists were wrapped up soon after lunch. Their innings had one big score from Kohli, who was the last man dismissed on 153. A useful 71-run partnership with Ashwin helped India reduce the margin of deficit in the first innings. For the Proteas, Morkel stood out with a four-fer while the other chipped in with one wicket apiece. (Read: Twitter roasts Parthiv Patel after he drops Elgar)
South Africa will aim to put a tall score on board and aided with the lead of the first innings, they'll look to put this game beyond India. But this is easier said than done. The visiting team is intent on not letting the game and the series slip and hence will leave no stone unturned in battling it out. It'll want to run through the Protea batting and have a shot at maintaining Kohli's clean slate as far his captaincy record is concerned. Do join us to find out exactly how the day draws out. (SCORECARD)
Highlights India vs South Africa 2nd Test, Day 3
21.25 IST: Bad light forces stumps on Day 3. South Africa 335 & 90/2, lead India (307) by 118 runs. So, there we go! The news that became more obvious as time passed by, arrives. PLAY CALLED OFF FOR THE DAY! Bad light and rain robs us of an exciting end to the day. This scenario can well be likened to a good thrilling movie whose poor climax spoils all the fun of watching it. This game is tantalizingly poised.
20.55 IST: It is now past the usual scheduled time for Stumps. Hard to see play resuming past this point, given how dark it was when players walked off. Perhaps the officials won't risk resumption given the mood Kohli was in. The updates from the venue state that covers are drawn even though there is no rain there.
20.20 IST: Meanwhile, Virat Kohli and Ravi Shastri are seen having a word with the match referee. Not sure what exactly is the issue, but there are rules in place, there are umpires to monitor the game, so he needn't be so animated. Constrastingly, Faf du Plessis and his boys are seen sitting calmly in their dressing room, keeping an eye on whatever is going on the match referee's cabin. Nevertheless, that's what we have for the time being. Stay tuned for further updates.
20.18 IST: Bad light stops play at Centurion. SA 335 & 90/2, lead India (307) by 117 runs. Bad news, folks, again! Not rain, but BAD LIGHT forces the players out this time. The on-field umpires are seen taking the reading on the light meters. This is the benchmark set for the game, meaning, the same level of visibility will result in the game halting for the remaining duration of it.
20.14 IST: FIFTY for AB de Villiers! De Villiers completes his 42nd Test fifty off 78 balls. SA 335 & 90/2, lead India (307) by 117 runs.
20.06 IST: Mohammed Shami to AB de Villiers, 2 runs. Shami bowls this on a length from wide of the crease. De Villiers works this through square leg for a brace. He moves to 46 with this.  SA 86/2, lead IND by 114 runs.
19.58 IST: Shami seems to have missed his run up yet again.
19.56 IST: FOUR! Edged but runs. What are you doing Parthiv? Clearly the wicketkeeper has to go for such catches. This is a definite chance gone down. Bumrah comes in from round the wicket and bowls a length ball just outside off at 138 kph. The ball zips off the surface and climbs up viciously. Elgar is forced to play at that due to the incoming angle. All he ends up doing is gets a thick outside edge. There is a big gap between Patel and Pujara at first slip. The ball flies through there and goes to the fence.
19.55 IST: Mpumelelo Mbangwa on air tells us that Kohli had an animated chat with the umpire. He says that Virat isn't happy with the visibility there. The commentator reckons that it could be more because India's premier spinner won't be assisted much by these conditions.
19.52 IST: With overcast conditions on offer, Jasprit Bumrah is brought back for a spell. 5-2-19-2 read his current figures.
19.51 IST: Mohammed Shami to AB de Villiers, no run. Fuller on the stumps, flicked away through mid-wicket for one. SA 69/2 after 24 overs. 
19.50 IST: Welcome back! The dark clouds haven't gone away completely although the rain has. As a result, the floodlights have been switched on.
19.40 IST: Play to resume at 16:20 local time if there is no more rain.
Update - Play to resume at 16:20 local time if there is no more rain. No overs lost and play to go on until half past six - light permitting #SAvIND pic.twitter.com/mSodYev5mz

— BCCI (@BCCI) January 15, 2018
19.24 IST: The covers are finally coming off!
19.10 IST: UPDATE! The heavy downpour at Centurion has settled into a light drizzle.
The situation right now at Supersport Park. The covers are still on but the heavy downpour has settled into a light drizzle. #SAvIND pic.twitter.com/ZpLVfaeBqB

— Cricket South Africa (@OfficialCSA) January 15, 2018
18.55 IST: This isn't good news for the cricket lovers. The rain has started to pour down, forcing the players and the umpires off the field. The center is quickly covered. Michael Holding on air says that when the rain stops, resumption shouldn't take time as the drainage facilities are quite good and the outfield might be thirsty as well.
18.52 IST: Rain interrupts play on Day 3. Mohammed Shami to AB de Villiers, no run. Length ball, defended off the back foot with a straight bat. SA 68/2 in 23.5 overs, lead India by 96 runs.
18.48 IST: Another clatter of thunder. This makes the groundsmen alert, who react as school children do after the end-of-day school bell rings.
18.46 IST: Shami misses his run up and aborts bowling this one.
18.44 IST: Sound of thunder goes around the ground. This draws huge cheers from the crowd at Centurion. Rain coming in? The forecast didn't show any such signs. A huge dark cloud is hovering above the ground at the moment.
18.42 IST: Mohammed Shami to Dean Elgar, no run. Fuller on off from round the wicket, Elgar keeps it out towards mid on.  SA 67/2 in 22 overs, lead IND by 95 runs.
18.37 IST: SIX! Wow! The first biggie in the game comes in the third innings of the Test match. This is floated in line of the stumps, Elgar clears his front leg and hits it over long on for half a dozen. Just clears the ropes though.
18.35 IST: As expected, R Ashwin bowl from the other end.
18.34 IST: Shami concludes with a maiden over.  Mohammed Shami to AB de Villiers, no run. This one is punched to the man at covers. SA 60/2, lead IND by 88 runs.
18.30 IST: 37 overs to go in the day's play. A fairly long session, like it has been for the past couple of days. We should get most of them as Ashwin will be seen in action for most time. Dean Elgar and AB de Villiers stride out to resume their vigil. Mohammed Shami will start off this session. A wide slip in position.
18.10 IST: TEA on Day 3. SA 60/2, lead IND by 88 runs. Ravichandran Ashwin to Dean Elgar, no run. Straighter just outside off, Dean just lets it be. That's it from the session.
That's Tea on Day 3 of the second Test and SA are 60/2 and lead by 88 runs. It was @Jaspritbumrah93 who took both the wickets. More details here: https://t.co/BsnwXUTXv4 pic.twitter.com/RusnwASR5w

— BCCI (@BCCI) January 15, 2018
18.02 IST: Ravichandran Ashwin to Dean Elgar, no run. Blocked from the crease towards point. After 17 overs, SA are 58/2, leading IND by 86 runs.
18.00 IST: FOUR! 2nd full toss from Ashwin in the last 6 balls that he has bowled to Elgar. He is letting him off the hook here. This one is a juicy one. The line is on the stumps. Dean gets down and sweeps it through square leg for a boundary.
17.56 IST: The shape of the ball is looked into. The Indians aren't happy with it and hand it to the umpire. He has a look at it after passing it through the 8-shaped gauge and deem it fit to continue. Wonder why you would change a cherry that has given you two quick wickets.
17.54 IST: Ishant Sharma to AB de Villiers, FOUR! 50 up for South Africa. Once again de Villiers is in the midst of a recovery for them. This is bowled full in line of the stumps, de Villiers push-drives it down the ground. Ashwin starts chasing it. Once that happens, it isn't wrong to assume a boundary resulting. The partnership is worth 49.
17.52 IST: WATCH how Virat Kohli's 153-run knock drove India to 307 in their first innings.
17.44 IST: FOUR! De Villiers knows how to play bad deliveries. The first real bad ball from Ashwin in this innings. Drops this way short and just outside off. De Villiers isn't someone who will let go of such scoring opportunities. Gets back in a flash and cuts it fiercely through point for a boundary. SA 37/2, lead IND by 65 runs.
17.40 IST: FOUR! Timing. That's all about this stroke. This is pitched up fuller at 141 kph. De Villiers gets his front foot forward and just pushed it through mid off for a boundary. The third boundary for him and he moves to 19. SA 32/2, lead IND by 60 runs.
17.38 IST: Ishant Sharma comes into attack. He was impressive in the first essay, picking a 3-wicket haul.
17.31 IST: FOUR! De Villiers drives it on the off-side. Shot. Nicely played. On a length outside off, de Villiers stays tall on the back foot and punches it through cover-point. Finds the gap there and gets a boundary. SA 24/2, lead IND by 52 runs.
17.28 IST: There is a bowlers' map that shows that South Africa have bowled just 5 balls in the line of stumps this morning. Michael Holding on air states about those that aren't on the stumps, that the length is a bit short. That means, those aren't driving length balls. Futile stuff he concludes.
17.25 IST: FOUR! Elgar strikes it to third man. Edged but safe. This is angled away from Elgar on a length. He looks to play the drive but gets a thick edge. The ball goes to the third man fence for a boundary. SA 15/2, lead IND by 43 runs.
17.17 IST: FOUR! De Villiers start with a boundary. Excellent delivery to get first up! Bumrah bowls a yorker on middle, de Villiers somehow manages to get his bat down in time as he gets an inside edge, down towards fine leg for a boundary.
17.16 IST: AB de Villiers walks out. His team is in trouble here and he needs to bail them out, like he has done on many occasions.
Wicket! Wow, this is an exceptional start by India and in particular Bumrah. Another one that keeps low and Amla has to go for 1. SA are 3/2 and lead by 31 #SAvIND #SunfoilTest pic.twitter.com/bM1HBxZ7cJ

— Cricket South Africa (@OfficialCSA) January 15, 2018
17.15 IST: WICKET! Bumrah claims his second wicket in Amla (1). That is plumb! Bumrah gets his second and he is breathing fire here! Once again it is the ball which comes in does the trick for him. He steams running in and bowls it on a length around off, he gets some inward movement and it also stays low.Amla tries to defend it off the back foot but misses to get hit on the pads. Bumrah is celebrating even before the umpire raises his finger and Amla straightaway walks off. A big wicket for the Indians and both the run scorers from the first innings are in the hut now. South Africa are basically 31 for 2.  SA 3/2, lead IND by 31 runs.
17.10 IST: Jasprit Bumrah to Dean Elgar, no run. Length outside off, Elgar lets it be. SA 2/1 in 4 overs, lead by 30 runs. 
17.01 IST: Hashim Amla walks out at no. 3. He showed signs of getting back into form in the last innings. Can he continue it?
17.00 IST: WICKET! Bumrah strikes, Markram given LBW for 1 run. SA 1/1, lead IND by 29 runs. There goes the first one! The ideal start for India. He comes running in and lands it on a length around off, it shapes back in sharply and also stays low. Markram is undone by the low bounce as he hops and tries to defend but misses to get hit on the pads. Bumrah is up and running in celebration as he appeals, he does not even bother looking at the umpire who after a though raises his finger. Aiden walks down to his partner to have a chat but then opts not to review.
16.58 IST: Jasprit Bumrah to bowl from the other end.
16.55 IST: SA 1/0 in 1 over. Ravichandran Ashwin to Aiden Markram, 1 run. Bowls the carrom ball on off, it spins the other way. Markram tries to defend but it goes off the outside edge, down towards third man for a run.
16.50 IST: With his career-best knock of 153 runs in South Africa, Kohli replied his critics who questioned his selection decision for the Centurion Test. On Day 1, former India opener Virender Sehwag asked Kohli to drop himself in the third Test, if he fails to perform in Centurion.
"Watching Virat Kohli exclude Shikhar Dhawan for just one Test failure, and Bhuvneshwar for no reason at all, Kohli should drop himself in the third Test at Johannesburg, if he fails to perform in Centurion," Sehwag, who is India TV's cricket expert, said on the show 'Cricket Ki Baat'. (Read full story)
16.46 IST: WICKET! Virat Kohli departs for 153 runs. IND 307 all-out, trail SA (335) by 28 runs. The Indian skipper holes out! A wonderful innings comes to an end! Take a bow, skipper. He walks out to a standing ovation. He comes down the track and times the full ball well but he fails to keep it down. He does not get the elevation desired and hence the ball goes straight into the hands of de Villiers at long on who takes it easily. INDIA HAVE BEEN BOWLED OUT FOR 307!
16.44 IST: IND 307/9 in 92 overs, trail SA by 28 runs. 
16.40 IST: Kagiso Rabada is back on.
16.37 IST: Jasprit Bumrah is the last man in. He has two balls to play out. Can he?
16.36 IST: WICKET! Ishant Sharma departs for three runs. The short ball ploy has done the trick! Maybe this is the reason why Kohli did not want to give the strike to Ishant when Morkel was bowling. Nevertheless, he supported Kohli well out there but is now walking back. Morkel digs out a short ball on middle, he gets this one right after bowling three wayward ones. It gets big on the batsman as he tries to defend. The ball hits the top off the bat and lobs to Markram at short leg. He takes an easy catch. India 29 behind and South AFrica one wicket away from taking the lead.  IND 306/9, trail SA by 29 runs.
16.32 IST: 
Kohli brought up his 150 followed by the India 300 in the last over. He is now up to 152* and his side 306/8. India trailing by only 29 now #SAvIND #SunfoilTest #FreedomSeries pic.twitter.com/QZj8WBvwbl

— Cricket South Africa (@OfficialCSA) January 15, 2018
16.30 IST: FOUR BYES! Another bouncer, this time Kohli tries to play the uppercut. He misses and the ball goes over the leaping keeper for a boundary. 300 up for India, they are getting close as they are only 32 behind now.
16.29 IST: Today, Kohli equalled the record set by Don Bradman, scoring his eighth 150 as a Test captain.
The Run Machine continues as he brings up his 150 runs off 207 balls #SAvIND #FreedomSeries pic.twitter.com/imD6l5h9Qt

— BCCI (@BCCI) January 15, 2018
16.26 IST: FOUR! 150 up for Virat Kohli. Besides Kohli, only two Indian batsmen have scored a 150-plus knock in South Africa. Sachin Tendulkar has done it twice, while Cheteshwar Pujara scored it once in South Africa. This is the 9th time he has passed this mark and he gets there in style. He pulls this short ball with disdain, through mid-wicket for a boundary. He takes his helmet off and acknowledges the applause from the dressing room, he also kisses the locket he wears in joy. Outstanding from the captain.
16.16 IST: A run out appeal has been taken upstairs.
16.14 IST: Morne Morkel will bowl from the other end.
16.13 IST: Vernon Philander to Ishant Sharma, no run. Finishes the over with a length ball and Ishant does really well to keep it out.  IND 290/8 in 86 overs, trail SA by 45 runs.
16.10 IST: We are back for the second session. Virat Kohli and Ishant Sharma will resume their innings. We just might see Kohli bring out his ODI mode. For South Africa, Vernon Philander will continue his spell.
15.45 IST: The Protea bowlers on the other hand, did not look threatening with the old ball. They gave away 104 runs in this session which is a clear indication of them not keeping it tight. The second new ball though did do the trick for them with both Morkel and Philander picking one each. They still have to take two more wickets and they would look to do that quickly. Kohli on the other hand, will try and score some quick runs and possibly get close or even surpass the home side's first innings score. Join us in a while for the second session.
At Lunch on Day 3 of the 2nd Test India 287/8 (Virat 141*), trail South Africa (335) by 48 runs.

Updates - https://t.co/BsnwXUTXv4 #FreedomSeries #SAvIND pic.twitter.com/wfNpsY7Hnw

— BCCI (@BCCI) January 15, 2018
15.40 IST: The Indian skipper walks off to a standing ovation! He is battling it out there with India needing another 48 runs to wipe out the trail. He notched up his 21st Test ton and received good support from Pandya at the start, but a school boy error from the latter cost him his wicket. Later on Ashwin came in and played his shots. The two added another vital stand, before the off spinner got out to the second new ball which has till now given South Africa two wickets, with the second one being that of Shami.
15.32 IST: Lunch on Day 3! Morne Morkel to Ishant Sharma, no run. Ishant plays it out! Morkel bowls it on a shorter length outside off, Ishant defends it off the back foot. India 287/8 in 85 overs, trail South Africa (335) by 48 runs with Virat Kohli (141*) leading from the front. 
15.24 IST: FOUR! Kohli continues to delight. CRUNCHED! Kohli walks down the track and drives it through covers. He calls for two initially but the ball crosses the boundary ropes, beating the diving long off fielder. Kohli will have to hit a lot more. IND 285/8, trail SA by 50 runs.
15.22 IST: Ishant Sharma walks out at no. 10.
15.21 IST: WICKET! Shami departs for 1. Another one bites the dust! Taking the new ball is proving out to be an excellent decision! Morkel bangs it on a shorter length outside off, Shami tries to defend it, away from his body. He only manages to edge it to first slip, where Amla a reluctant slip fielder takes a neat catch. He too takes it in front of his face but unlike Faf he keeps his balance and stands his ground. Nevertheless, South Africa are not just two wickets away from taking a lead. IND 281/8. 
15.18 IST: Morne Morkel back into the attack.
15.16 IST: Mohammed Shami is the next man in. Four slips in place for him.
15.15 IST: WICKET! Philander removes Ashwin for 38. CAUGHT! The new ball has done the trick, but that shot from Ashwin was completely needless. Philander bowls it outside off, on a drivable length. Ashwin goes after it away from his body. The ball takes the outside edge and flies to second slip where Faf is standing in quite close. He shows good reflexes to take it in front of his face and tumbles down backwards. An excellent catch to break this 71-run stand. Philander gets his first and Ashwin walks back after getting a start. India continue gifting wickets to the South Africans and they still trail by another 55 runs. India 280/7, trail South Africa (335) by 55 runs.
15.11 IST: FOUR! Fabulous! Full and on off, Kohli loves it there. He drives it through covers and fetches himself a boundary. IND 277/6, trail SA by 58 runs.
15.10 IST: Second new ball has been taken. Vernon Philander will bowl with it. Now, will we see wickets or runs with it?
15.07 IST: FOUR! Ashwin slams it over extra cover. Up and over! Ashwin is oozing in confidence here! Maharaj tosses it up on off, Ashwin plants his front foot ahead and lofts it over mid off for a boundary. IND 273/6, trail SA by 62 runs.
15.02 IST: Lungi Ngidi is back into the attack. The new ball is also available in one over.
14.54 IST: FOUR! Ashwin hits Rabada for a boundary! The partnership between Ashwin and Kohli crosses fifty! Great for India. Ashwin looks in tremendous form! Rabada bowls it outside off, on a shorter length. Ashwin rocks back and cuts it through backward point for a boundary. IND 263/6, trail SA (335) by 72 runs
14.47 IST: FOUR! Kohli hits Rabada for a boundary to deep mid wicket! A gift but it still has to be put away! Rabada bowls a full toss on leg stump, Kohli flicks it through mid-wicket for a boundary. India trail only by 86 now. IND 253/6, trail SA (335) by 82 runs
14.44 IST: FOUR! Kohli hits Maharaj for a boundary to deep backward point. Bad ball and dispatched! There is very little margin for error when your bowling to a batsman of Kohli's class. Maharaj drags his length back outside off, Virat rocks back and cuts it through point for a boundary. IND 245/6, trail SA (335) by 90 runs
14.43 IST: Spin for the first time today! Keshav Maharaj is into the attack.
14.36 IST: It's time for drinks!
The first break of the morning in the Centurion heat. India are up to 235/6 after starting the morning on 183/5. Kohli is up to 105* #SAvIND #FreedomSeries #SunfoilTest pic.twitter.com/D3DtM5Khk7

— Cricket South Africa (@OfficialCSA) January 15, 2018
14.32 IST: Interesting stat on Kohli's hundred.
Virat Kohli now has....
10 Test hundreds in India (in 52 inns)
11 Test hundreds outside India (in 57 inns)#SAvIND #INDvSA

— Rajneesh Gupta (@rgcricket) January 15, 2018
14.27 IST: NOT OUT! Ashwin stays as the ball bounced before reaching to AB de Villiers' hands. Huge relief for India here. After losing a wicket pretty early in the day, they wouldn't want to lose another.Ashwin has been poking at balls he needn't all the while and almost pays the price here. Hangs his bat out at a length ball outside off. Ends up edging it to gully. Elgar there seems to have taken a good low catch to his left, tumbles and gets up in celebration. The Proteas think they have got another but the umpire isn't in a hurry to give them a go. He confers with the leg umpire and decides to take it upstairs and gives the soft signal as 'Not Out'. The replays show why that is a clever call. The ball bounces just in front of Elgar before he catches that. To be fair to the fielder, these aren't ones that you understand easily, hence he is right in going up in celebration. The sport stays happy though, as the right decision is made in the end. IND 233/6, trail SA (335) by 102 runs
Appeal from Rabada and De Villiers for a catch to dismiss Ashwin. But replays are inconclusive and the batsman survives on 23. India are 233/6 #SAvIND #FreedomSeries pic.twitter.com/UqhBk5oLX1

— Cricket South Africa (@OfficialCSA) January 15, 2018
14.17 IST: FOUR! Three-in-three for Ashwin. This is on a length outside off, Ashwin stands on the back foot and punches this through cover-point. Gets another boundary to his name. The partnership is worth 22 and all of those have come off Ashwin's blade. IND 231/6, trail SA (335) by 104 runs
14.15 IST: FOUR! If you attacked me with fire early on, here's one of my own. This is what Ashwin might be saying says Harsha Bhogle on air. Gets another ball that is full in length outside off, Ashwin stays on the back foot and punches it through the cover region. A boundary results. Such is the quality of the shot that Kohli's appreciation for that is heard through the stump mic. 
14.12 IST: FOUR! Ashwin hits Ngidi for a boundary! Make no mistake, this guy can bat. Rabada bowls it full outside off, Ashwin drives it off the front foot through covers. The fence is the destination of the ball.  
14.02 IST: OUT! Hardik Pandya run out for 15! Philander gives Pandya a dose of his own medicine, in a different manner though. Yes, he inflicts a run out, that of Pandya. What exactly happened? Here we go. Pandya taps this fuller ball towards mid on and wants a run immediately. Kohli is adamant of there not being one and shouts a huge NO. Hardik turns around to get back safe inside the crease. But he isn't aware to the fact that a throw can come in. Philander gets to the ball and knocks down the stumps at the striker's end. The ball deflects to square leg after that and eventually the batsmen take one. De Kock puts in an appeal and it is referred upstairs. Everybody here thinks that there was no need to refer that as Pandya seemed well in. Hold on! Paul Reiffel has been right in doing so as Pandya does a Sehwag here. He is aerial in the crease and has not ground either his foot or his bat in. The Proteas' joy knows no bounds. Vernon has done an excellent job here. Pandya is angry with himself and rightly so. IND 209/6, trail SA (335) by 126 runs 
14.00 IST: What a gritty knock from captain Kohli! Take a bow! Well, some eventful way to get there. He gets a length ball, taps it towards mid-wicket and gets to the other end to score his 100th run. He leaps in joy as he reaches the crease. Takes his helmet off in celebration. But look at this guy's awareness. Spots that there is an overthrow at the keeper's end and hares to the other end for the second run with his helmet in one hand and the bat in the other. Gets in there safely and continues his century. Well played knock. He has looked untroubled throughout and looks poised for a big one.
Leading from the front #TeamIndia Skipper @imVkohli as brings up his 21st Test 💯 #FreedomSeries #SAvIND pic.twitter.com/INgkFgzytF

— BCCI (@BCCI) January 15, 2018
13.56 IST: Virat Kohli slams 21st Test hundred off 146 balls. India 207/5, trail South Africa (335) by 128 runs
13.48 IST: Edged but just short! Kohli would have had his heart in his mouth there. On a length just around off, Kohli gets a thick outside edge as he tries to defend that. Lands well short of Amla at first slip. IND 203/5, trail SA (335) by 132 runs
13.46 IST: FOUR! Wonderful shot from Kohli, hits Ngidi for another boundary. This is classic from the Indian skipper. Full and outside off, in fact overpitched delivery. Kohli gets his stride forward and drives it crisply through covers and moves to 94 with another boundary. 
13.45 IST: FOUR! Ngidi hurls it on a length just outside off, Kohli hangs his bat out at that. Edges it wide of the gully fielder and picks up a boundary. Another look at that shows that there was reverse swing on that. Kohli moves to 90 now.
13.40 IST: Graeme Smith on air is surprised that South Africa haven't begun the day with Morne Morkel. He reckons that on a new day and on such a surface, the extra bounce that the experienced seamer might generate will be good for them.
13.32 IST: Four Byes! Not the best of starts from Philander. Slips this down the leg side, Pandya misses his flick. De Kock is standing up to the stumps and hence can't do anything to stop that even though he moves to his left. Runs straightaway in the day.
13.30 IST: It's time for play to get underway. Kohli and Pandya's approach at the start will be interesting to see. Their stand is worth 19 runs as of now. For the home side, Vernon Philander will begin with the ball. A slip in place and the keeper is upto the stumps.
13.28 IST: Faf du Plessis and his teammates are making their way out to the middle. The hosts hold the upper hand here and will look to pile on more pressure on the Indians. Meanwhile, Kohli and Pandya too are out to bat. We are all set for a fascinating day of Test cricket. 
13.25 IST: PITCH REPORT - Shaun Pollock says that there's very little breeze to talk of. He opines that it looks like a Day 1 pitch and there aren't any foot marks. Sunil Gavaskar observes a few cracks but they aren't threatening according to him. Adds that this is the slowest track that he has seen in the nation since 1992. States that the hosts have made use of the contrast swing well, referring to the Parthiv Patel dismissal. Pollock ponders about the low bounce and reckons that run-scoring could become very difficult as the game progresses. Both of them agree on one fact - it is still a good surface to bat on and difficult one for the bowlers. They are eager to see what happens when the new ball is taken.
13.20 IST: South Africa will be looking to wrap up the Indians in the morning session.
Day three is moving day 👌We're hoping these two will make a big impact with the ball 💪#ProteaFire #SAvIND pic.twitter.com/oJnzCntetm

— Cricket South Africa (@OfficialCSA) January 15, 2018
13.15 IST: The relevant number that we have our eyes on is 152. That's how much runs South Africa still have in their bag. They have been largely been disciplined. Loose balls are far and few in between. In view of this, the visitors have done well to score at 3 per over. Pandya looked resolute to stay unbeaten last night. With Maharaj expected to do a bulk of bowling, expect him to flex his muscles. Promises to be an exciting day, the moving one in this game. Be with us.
13.00 IST: You are at the right place if the Monday blues are getting to you. As an Indian fan, Kohli will start the day with the bat, 15 short of his 21st Test ton. As a Protea fan, the prospect of the bowlers running in with the ball which is scuffed up is a mouth-watering one. We take immense pleasure in welcoming you to the coverage of Day 3 of this second South Africa-India Test match on at the SuperSport Park in Centurion.
12.40 IST: Here's Ravindra Jadeja helping out Ravichandran Ashwin with some batting practice. 
From one spinner to another. @imjadeja helping out his spin mate @ashwinravi99 gear up for Day 3 #TeamIndia #SAvIND pic.twitter.com/YM3SRw4tHN

— BCCI (@BCCI) January 15, 2018
12.30 IST: Virat Kohli, who is on 85, will look to start strong on Day 3 by reaching to his 21st Test hundred. It will be a great confidence booster for the Indian captain and also for the entire Indian team. Kohli will need support from Hardik Pandya, who is at the other end.
Brief Day 2 Report: Leading from the front, India captain Virat Kohli made a defiant 85 runs (not out) as other batsmen fell like a pack of cards to leave the top-ranked Test team at 183/5 on the second day, trailing South Africa by 152 runs in the second Test in Centurion on Sunday.
Kohli's 16th Test half-century showed his determination to keep India alive in a series where they already trail 1-0 and are fighting to justify their No. 1 ranking. 
Only opener Murali Vijay provided some lasting support for Kohli on Day 2 at SuperSport Park as South Africa's four-man pace attack worked its way through the Indian top and middle-order.
Allrounder Hardik Pandya was 11 not out alongside Kohli at stumps, with India precariously placed in their reply to South Africa's first innings of 335 all out.
Kohli strode in with India under pressure at 28-2 after losing two wickets in two balls. He took the lead in a 79-run partnership with Murali Vijay (46), making 51 of those 79 runs.
Vijay was undone by South African spinner Keshav Maharaj, opening the way for quick bowlers Kagiso Rabada and Lungi Ngidi to remove Rohit Sharma (10) and Parthiv Patel (19).