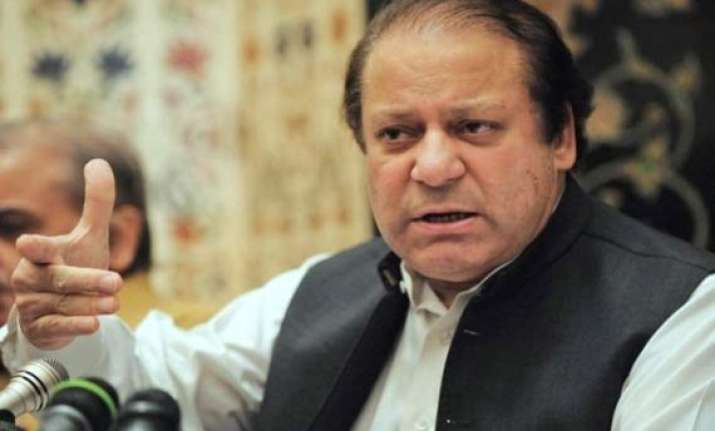 Islamabad: Facing his toughest test since becoming Pakistan's Prime Minister, a defiant Nawaz Sharif today brushed aside the demand of protesters asking him to quit saying the country has survived "difficult times" and the current political crisis too shall pass.
Political stalemate has continued for the last two weeks with Imran Khan-led Pakistan Tehreek-i-Insaf (PTI) and cleric Tahir-ul-Qadri's Pakistan Awami Tehreek (PAT) refusing to budge from their demand of the Prime Minister's resignation over allegations of rigging in last year's general election and killing of 14 PAT supporters in Lahore on June 17.  
"We have survived difficult times. In the 2008 elections, our hands were tied. But we campaigned and participated, we did not cry about rigging—and it would have been a legitimate cry," Sharif said while addressing the National Assembly, his first major speech since the crisis erupted.  
"Because at that time there was a dictator that controlled the government. He held those elections...But we said if PPP has got more seats than us then we will accept that right of the PPP," he said.
Sharif expressed hope that this phase will pass and Pakistan will be steered towards prosperity.  The Prime Minister in his address indicated in no uncertain terms that his PML-N-led government that has been in power since June last year and the present Parliament are here to stay.
"We are not going to be diverted by these things. The journey for the supremacy of Constitution and law in Pakistan will continue with full determination and God willing there will not be any interruption in it," he said.  
Meanwhile, the Supreme Court today ordered PTI and PAT protesters to clear the Constitution Avenue, including a road in front of the apex court and the Parliament, by tomorrow.  
A five-judge larger bench of the Supreme Court, headed by Chief Justice Nasir-ul-Mulk, gave the order during a hearing of identical petitions filed by bar associations across the country against the PAT and PTI's sit-ins.  
According to petitioners, protesters were breaching the rights of the common citizen which ensure freedom of movement and right of assembly.
The protesters have been sitting in front of the Parliament House and the Supreme Court building since August 19, making the road inaccessible to government employees.  
Days after its lawmakers resigned from the National Assembly, PTI's Punjab Assembly members today submitted their resignations, stepping up pressure on the embattled government.