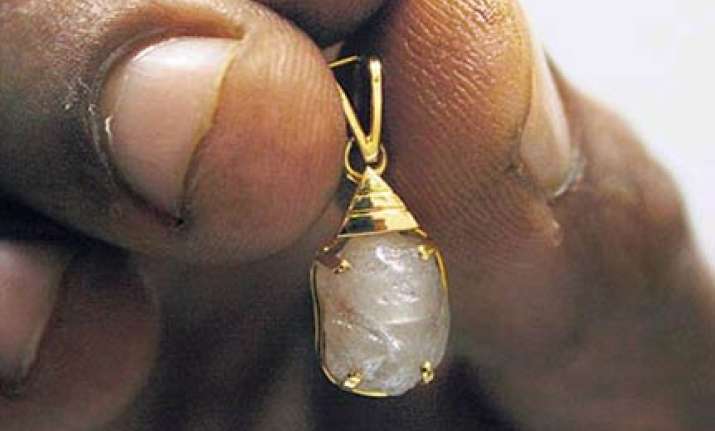 Mumbai: A Muslim diamond merchant has claimed to have found a rough diamond in the shape of Lord Ganesha, and has vowed never to sell the "good omen" to anyone, reports the newspaper DNA.
Rafique Bilakhaiya, 38, who is from suburban Malad, buys rough, uncut diamonds from the local diamond markets in Mumbai and sells them to diamond vendors in the city and abroad. He said he bought the diamond, weighing 6.41 carat, from the local diamond market of Mumbai last month. It was only after some days that he realised that it was in the shape of Ganesha.
Bilakhaiya bought the uncut diamond for around Rs.4 lakh, but after cutting and polishing it, he can sell it for over Rs25 lakh.
Bilakhaiya pointed out that he has neither polished nor cut the precious diamond, but has directly set it onto a gold pendant of 10 grams. "The fact that Lord Ganesha has come to me unsought is the best omen," Bilakhaiya said, folding his hands reverentially.
According to Bilakhaiya, the shape of the diamond bears an uncanny resemblance to the Lord Ganesha idol in Mumbai's famous Siddhivinayak temple, in Dadar. "I am a Muslim, but have grown up in Maharashtra and hence know that Lord Ganesha is the remover of all obstacles. I don't want to give Him away," he added.
After hearing of Bilakhaiya's prized rock, his office has become a veritable pilgrimage centre — scores of people queue up daily for a darshan of Lord Ganesha in the raw, uncut diamond.
"Many vendors offered to buy it from me at any price. But I didn't want to," Bilakhaiya said. But he added, as an afterthought, "I might sell it to someone who is a true devotee of Lord Ganesha."