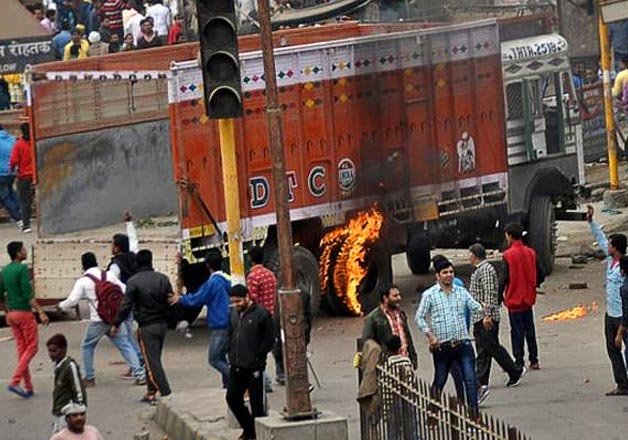 Chandigarh: The impact of ongoing pro quota Jat stir in Haryana is being felt on Punjab's industry and traders who are facing shortage of raw materials and a halt in dispatches of finished products to other states, causing heavy financial losses.
"We are feeling the pinch of Jat reservation agitation in Punjab here. Almost all verticals of the industry have been adversely impacted," United Cycle Parts and Manufacturers Association, President Charanjit Singh Vishivkarma told PTI.
The Jat job reservation agitation has crippled the road and rail network through Haryana and destined to neighbouring states, including Delhi, Punjab, Himachal Pradesh, Jammu and Kashmir, Rajasthan and Chandigarh.
Travel in the region remained disrupted with authorities cancelling bus and train services on most routes in the wake of continuing blockade at several places.
Punjab's prominent industry verticals like cycle and cycle parts, ready made garments, iron and steel, auto parts are hit due to scarcity of raw material and disruptions in supply of finished products to buyers in other states.
"We have not been able to get raw material like iron and steel material for making bicycles. Moreover inventory of our finished products are pilling up because of hampering in supplies to other states due to blockades," Singh said.
In the wake of insufficient supplies of iron and steel, its prices have gone up by Rs 2,000-3,000 per tonne, he further said.
Bulk of raw material comes from other states through road and rail network which are almost paralysed in view of Jat agitation going in neighbouring Haryana.
Industry also feared losing buyers including overseas ones for not being able to supply goods to respective destinations.
"Our export commitments will get disturbed if we fail to supply our finished goods to our buyers," he said.
"Most of factories have cut down their production supplies in the wake of disruptions in dispatches of finished goods," another Ludhiana based industrialist said.
Punjab is a major producer of bicycles, ready made garments, hand tools, auot parts, hosiery goods, among other items.