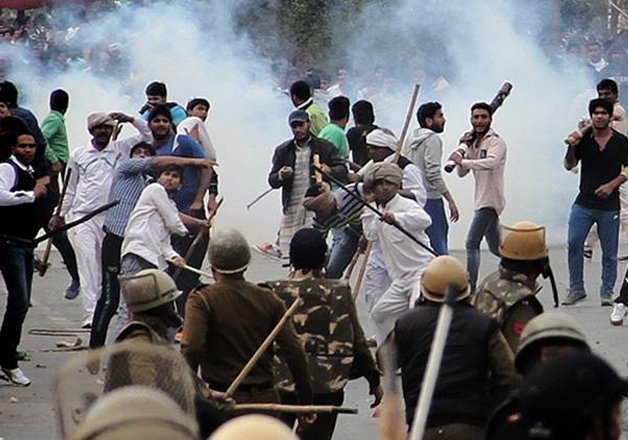 Chandigarh/New Delhi: At least 12 people have been killed and 150 injured in violence linked to the pro-quota agitation by the Jat community in Haryana, the state's Director General of Police (DGP) Y.P. Singhal said today.
Thousands of people continued to suffer as the violent agitation by Jat community protesters in Haryana entered the eighth day. The agitation paralysed life in the entire state, cutting off all northern states from Delhi.
With trains to and from Delhi and other places being cancelled, buses not plying, all major highways passing through Haryana blocked by protesters at several places and railway tracks being blocked and uprooted, thousands of people suffered as they were stranded at different places.
Prices of flights from Chandigarh to Delhi were hovering between Rs.25,000 and Rs.55,000 for the one-hour journey. With roads and railway tracks blocked, flights are the only safe option to travel from Chandigarh to other places.
Curfew was imposed in Hisar, Sonipat and Jind towns after violence. Agitation was also reported in Kaithal. Rohtak, Bhiwani and Jhajjar towns were already under curfew since Friday evening.
The National Highway No. 1 (NH-1), connecting Delhi to Haryana, Punjab, Himachal Pradesh and Jammu and Kashmir, has been blocked by Jat protesters at several places in Sonipat and Panipat districts. Thousands of vehicles and people were stranded at different places along the highway.
NH-10 and NH-71 have also been blocked in Rohtak and Jhajjar districts. The 'Sada-e-Sarhad' bus service between Delhi and Lahore and the Samjhauta Express link train from Delhi to Attari (Punjab) have also been affected. The Delhi-Ambala railway tracks have been blocked by protesters in Sonipat and Panipat districts.
Schools in the national capital will remain closed on Monday in view of the water crisis here following the closure of the Munak Canal which supplies water to Delhi, a minister said on Sunday. The closure of the Munak Canal followed vandalisation of canal works by Jat agitators pressing for reservation for the community
"Have directed all schools to be closed tomorrow due to water crisis," Education Minister Manish Sisodia tweeted. "No water available now. Still no hope to get it."
The government also announced that water would be rationed amongst all residents equally -- barring a few VIPs. "Barring president, prime minister, Chief Justice of India, defence installations, hospitals, fire brigade, water to be equally rationed amongst all," CM Arvind Kejriwal said.
"Please save water," Kejriwal added.
Jat leaders refuse to withdraw pro-quota stir
In Chandigarh, Chief Minister Manohar Khattar along with some of his senior Ministers and top officials is closely monitoring the situation, official sources said. State's DGP and Home Secretary were also regularly in touch with the Centre on the prevailing situation.
The country's largest car maker Maruti Suzuki India has suspended operations at its two plants in Gurgaon and Manesar as component supplies have been hit by the agitation.
Appealing to protesters to end their stir, Khattar had yesterday asked agitators to "return to their homes as the Government has accepted their demands". Former Chief Minister Bhupinder Singh Hooda and Leader of Opposition Abhay Singh Chautala have also appealed to the protesters not to indulge in violence and raise their demand through peaceful means.
Congress MP from Rohtak Deepinder Singh Hooda, whose parliamentary constituency has been worst-hit by violence, has appealed the youths to form "peace committees" and not indulge in acts of violence and help maintain peace and brotherhood.
However, several Jat leaders have refused to call off the pro-quota agitation unless the government promulgated an ordinance to include the community in the OBC category.
Centre rushes additional 1,700 paramilitary troops to Haryana
New Delhi: In the wake of continued violence by agitating Jats, additional 1,700 paramilitary troops have been sent to Haryana, taking the total number of central armed police personnel deployed in the troubled state to 5,000.
"We have sent 17 more companies of paramilitary personnel in addition to 33 companies sent in last three days," a senior Home Ministry official said.
A company of a paramilitary force comprises about 100 personnel. The additional forces have been sent following a request by the Haryana government, which is grappling with the situation arising out of the violence following the Jat stir for quota in government jobs.
During a telephonic conversation with Haryana Chief Minister M L Khattar on Friday, Home Minister Rajnath Singh had assured all assistance to the state government to deal with the situation.
National Crisis Management Committee, headed by Cabinet Secretary P K Sinha, has also assured Haryana government that there would be no dearth or delay in sending any assistance, including central forces.
Over 1000 trains hit by Jat stir
The Jat agitation for quota has hit rail services hard in the northern states, affecting around 1000 trains with 736 trains cancelled and 105 diverted besides damage to rail property, causing a loss of Rs 200 crore to the transporter.
The important rail routes to the states of Punjab, Haryana, Rajasthan, Chandigarh, and Jammu and Kashmir have been badly affected due to the Jat agitation, said a senior Railway ministry official.
The Delhi-Rohtak-Bhatinda and Delhi-Rewari-Jaipur, Delhi-Panipat-Ambala routes are worst affected. The official said the agitating public have also led to largescale damage of railway properties and installations. Ten stations were burnt, two railway engines and two track machines damaged by the agitating public. Tracks were also uprooted at several locations.
The loss to railways due to large scale cancellation and damage is more than Rs 200 crore now, he said. Premier Trains like Jammu Rajdhani, Amritsar Shatabdi, Kalka and Chandigarh Shatabdi trains remained cancelled due to the ongoing stir.
Jat quota stir toll now 10
At least 10 people have been killed and 150 injured in violence linked to the pro-quota agitation by the Jat community in Haryana, the state's Director General of Police (DGP) Y.P. Singhal said on Sunday.
"As per reports, 10 people have been killed and nearly 150 are injured. No death has been reported since last (Saturday) night, either in police action or in rioting," he said.
Thousands of people continued to suffer as the violent agitation by Jat community protestors in Haryana continued for the eighth day on Sunday.
The agitation paralysed life in the entire state, cutting off all northern states from Delhi.
While Haryana Chief Minister Manohar Lal Khattar appealed to protestors to stop the violence, his party BJP invited them to hold talks with the party's central leadership.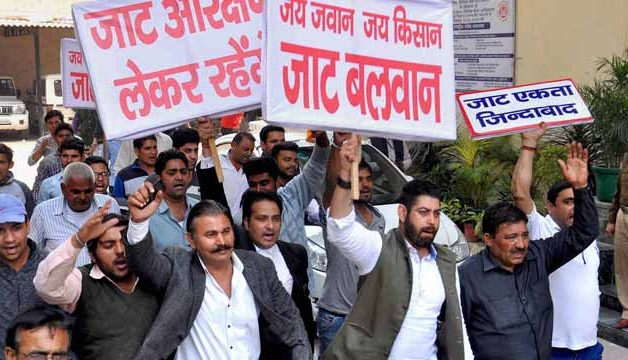 In Delhi, former Haryana CM and senior Congress leader Bhupinder Singh Hooda will start a hunger strike at Jantar Mantar from today till the situation normalised.
On the other hand, the Delhi government yesterday late night moved the Supreme Court over the sudden water crisis in the capital due to the Jat agitation. The Munak Canal - which supplies water to south Delhi - has been closed after vandalisation of the controlling system by Jat protesters.
"Delhi government moves SC on water crisis. Petition accepted. Likely to be heard on Sunday morning," Delhi's Water Minister Kapil Mishra tweeted on Saturday night.
"Extraordinary situation. First time seven plants closed down. No piped water supply possible after tomorrow morning in 60 percent city including NDMC. People of Delhi are requested to keep calm, save water and help the needy first," he tweeted.
Chief Minister Arvind Kejriwal too said that water supply in the capital may be hit. "Delhi facing unprecedented water crisis. Soon, water will have to be rationed. Shouldn't scarcity be equally shared between public n VIPs?" he tweeted this morning.
Rajnath Singh chairs high-level emergency meeting
Home Minister Rajnath Singh on Saturday chaired a high-level emergency meeting to discuss further course of action in the matter. Chief of Army Staff General Dalbir Singh, National Security Advisor Ajit Doval, Director of Intelligence Bureau Dineshwar Sharma, Union Home Secretary Rajiv Mehrishi, Road Transport Minister Nitin Gadkari and Defence Minister Manohar Parrikar were also present for the meeting at Rajanth's residence in New Delhi.
"The Ministers and top officials took stock of the violence in several districts of Haryana and discussed the future course of action to restore normalcy in the affected areas," a government official said, adding that 'the Home Minister is in regular touch with Haryana CM Manohar Lal Khattar'.
Separately, a delegation of Jat leaders from Uttar Pradesh met the home minister on Saturday and urged him to take urgent steps to meet their demands of reservation.