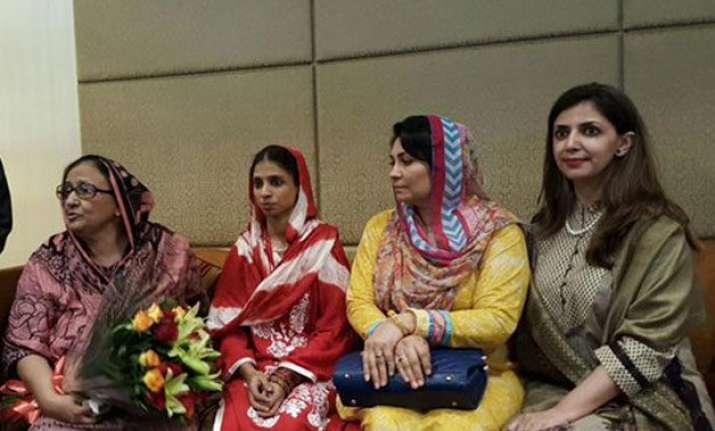 New Delhi: Geeta, a deaf-mute Indian girl who has been stranded in Pakistan for over a decade, has finally returned to her home land.
Pakistan International Airlines (PIA) flight, PK 272, carrying Geeta, now 23, landed at the IGI Airport this morning.
Dressed in a white-red salwar suit and her head covered with dupatta, she waved to the waiting people.
Geeta had inadvertently crossed the border to Pakistan over a decade ago. She was spotted by the Pakistan Rangers in Lahore and handed over to the Edhi Foundation, a social welfare organisation.
The Government of India has also invited 5 members of Edhi Foundation and they will be treated as state guests.
Pakistan High Commissioner to India, Abdul Basit, and Geeta's family members were present at the airport to welcome her.
External Affairs Ministry spokesperson Vikas Swarup said on Saturday that Geeta has already identified one family as possibly being that of her parents.
"We will be doing DNA testing to establish conclusive proof. If the DNA tests match, Geeta will be handed over to that family. If not, we have identified suitable institutions where she will be looked after," Swarup said.
Geeta's story came to light after the release of Salman Khan starrer 'Bajrangi Bhaijaan' in which the hero unites a girl separated from her Pakistani mother who was visiting India.
Before boarding the PIA flight from Karachi, a beaming Geeta thanked the Pakistani people for taking care of her.
Faisal Edhi of the Edhi foundation told reporters in Karachi that they would continue to stay in touch with Geeta through social media and even visit her.
"She is not really separating from us," he said.