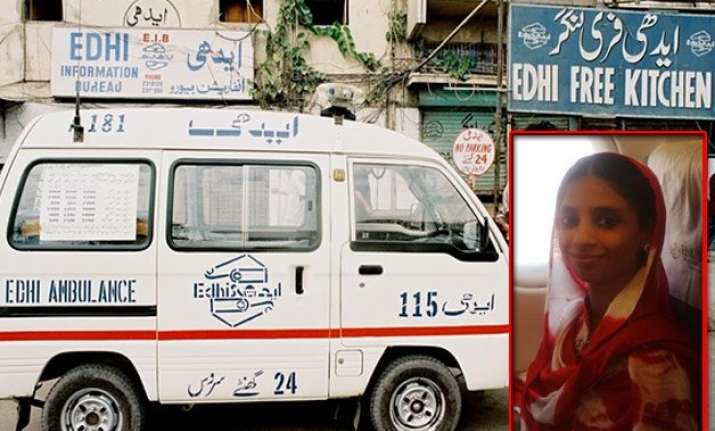 New Delhi: Geeta, a deaf-mute Indian woman who has been stranded in Pakistan for over a decade, has finally returned to her home land.
In 2003, Geeta, who was then 11, inadvertently crossed the border to Pakistan. She was spotted by the Pakistan Rangers in Lahore and handed over to the Edhi Foundation, a social welfare organisation.
The organisation provides, among many other services, shelter for the destitute, free hospitals and medical care, drug rehabilitation services, and national and international relief efforts.
India TV brings to you 10 facts about this Pakistan based organisation:
1. Abdul Sattar Edhi established his first welfare center and then the Edhi Trust. What started as one man operating from a single room in Karachi is now the Edhi Foundation.
2. Headquartered in Karachi, the Edhi Foundation, which provides 24-hour emergency assistance inside and the outside Pakistan, was founded by Abdul Sattar Edhi in 1951.
3. The foundation has over 300 centers across the country, in big cities, small towns and remote rural areas, providing medical aid, family planning and emergency assistance. It also owns air ambulances to provide quick access to far-flung areas.
4. The foundation's main focuses are emergency services, orphans, handicapped persons, shelters, education, healthcare, international community centers, blood & drug bank, air ambulance services, marine and coastal services.
5. The Edhi Foundation has branches in several countries where they provide relief to refugees in the USA, UK, Canada, Japan, and Bangladesh.
6. In 1991, it had provided aid to victims of the Gulf war and earthquake victims in Iran and Egypt. With its fleet of more than 500 ambulances, the organization had entered the Guinness World Records for being the 'largest volunteer ambulance organization'.
7. Alone in Karachi, the foundation runs 8 hospitals providing free medical care, eye hospitals, diabetic centres, surgical units, a 4- bed cancer hospital and mobile dispensaries. It also manages 2 blood banks in Karachi.
8. The foundation also has 15 'apna ghar' (our home) for the destitute children, runaways, and psychotics. It also has an education scheme, which apart from teaching reading and writing covers various vocational activities such as driving, pharmacy and para-medical training.
9. The foundation has won over a dozen international awards for its marvellous service to the society. India based Mahatma Gandhi Trust had in 2007 awarded Gandhi Peace Award to Edhi for promoting peace.
10. Abdul Sattar Edhi and his spouse Bilquis Edhi also provide free legal aid to bail out or the prisoners from the prisons, financial and medical support to the prisoners, provided crutches and supporters to the handicapped people, and gave exclusive free bathing and shrouding services to unclaimed dead bodies.