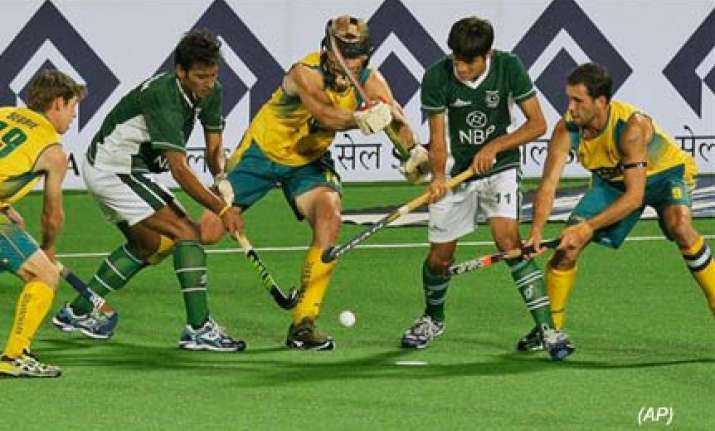 Desmond Abbott struck twice to lead Australia to a come from behind 2-1 win over Pakistan and into the semifinals of the hockey World Cup at the Major Dhyan Chand National Stadium in New Delhi on Monday . With this win, Australia have secured 12 points from five matches and topped Pool B on goal difference. 
England had to be satisfied with the second position even though they have same points as the Aussies. Australia will now take on the runners-up of Pool A in the semifinals while England will be up against the toppers. Sohail Abbas (24th minute) scored from Pakistan's one out of the five penalty corners, while Abbott (38th, 68th) scored both the goals for the Aussies. 
Pakistan lost but showed significant improvement in all departments of the game today and had Kookaburras in spot of bother on numerous occasions. 
Australia, on the other hand, was not at its ruthless best and played well in patches. Knowing that a draw would be more than enough for them to secure their semifinal spot, Ric Charlesworth's boys looked a relax lot in the first half. However, they got their act together in the second half, which was quite evidently visible in the result of the game. 
Both Pakistan and Australia went for quick breakaways from the onset, but failed to penetrate the opponent's circle on quite a few occasions. Australia got their first penalty corner in the 10th minute but Kieran Govers' dragflick was well run down by Pakistani defense. 
Salman Akbar seemed in a mood to make amends for his mistakes in the earlier matches and looked solid in front of the Pakistani goal. He denied Australia captain Jamie Dwyer in the 13th minute, keeping away his deflection from a fine Mark Knowles cross. 
Akbar once again came to Pakistan's rescue when he first saved a dangerous reverse stick shot off Govers from the top of the circle and then padded away Simon Orchard's rebound to deny Australia the lead. 
Pakistan earned back-to-back penalty corners in the last 12 minutes of the opening half and Sohail Abbas converted one of them to give his side the lead against the run of play.
Sohail was unlucky on first occasion as his flick hit the cross bar but stick tackling from Australian players resulted in another short corner. And this time, the ace dragflicker beautifully converted the set piece to give Pakistan 1-0 lead in the half time. 
Shocked by the half time scoreline, Australia pressed hard from the start of the second period and got the equaliser in the 38th minute when Abbott hammered the ball into far corner of Pakistan goal from a Kiel Brown through ball. 
Three minutes from time, an unmarked Shakeel Abbasi got a golden opportunity for Pakistan but his shot from top of the Australia circle went high above the goal.
And in the next minute Abbott summed up Pakistan s day, deflecting home a Robert Hammond cross to score the winner for the Aussies. PTI