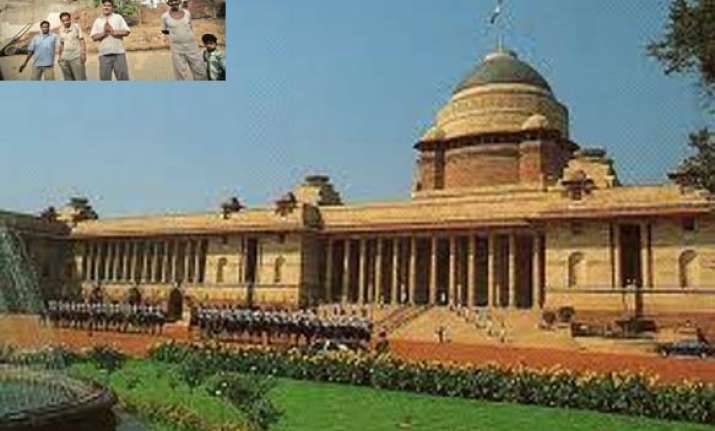 New Delhi, Aug 4: In their respective villages, they are known as "the landlords of Rashtrapati Bhawan" and the residents of "Raisina colony", says an Indian Express report.  

A short distance from the Parliament, where the Land Acquisition Bill is likely to debated, lie two pieces of disputed land, which have been carrying on for a century now in courts.

While 300 of those who are fighting that battle live a few kilometres from Sonepat in Haryana, in the Jat village of Harsana Malcha, 40-odd families live in Ghaziabad's Bhatta Hajipur village of Jatavs.

In 1911, the British government acquired 1,792 acres of land in Malcha village and around 2,000 acres in 'Raisina village' from 150 families for setting up the new capital in Delhi.Only 35 families accepted compensation in Malcha, while others refused to take it or were absent at the time the money was distributed.

The residents of 'Raisina colony' in Bhatta Hajipur say they got no compensation at all.Having filed pleas in several civil courts over the years, four of the families in Harsana Malcha have filed fresh petitions demanding that they be adequately compensated for the prime land that their ancestors owned.

Among them is Jeet Singh (68) who brings out a treasure trove of documents painstakingly preserved for a century.This includes one dated 16.12.1912, titled "Land Acquired for the New Capital of Dehli", and carries details of the 70 landowners who gave their holdings and the compensations some of them received.

Singh has also preserved records of the appeals they filed against these acquisitions in 1914, 1915 and 1916, and unanswered letters to the Patwari tehsildar, who acquired the land on behalf of the government.

Bent double over the papers, Singh says: "In the appeals, it is stated that our ancestors demanded Rs 2,400 per acre for fertile land and Rs 1,920 per acre for non-cultivable land.But the British only paid compensation at the rate of Rs 85 and Rs 15 per acre, respectively. Also, only 35 families took the compensation."

According to advocate Sanjay Rathi, who represents the farmers, 189 families that did not own land but lived in the Malcha village at the time were also driven out without any monetary relief.

In 2007, Singh — who says it took him five years to get the documents translated from Urdu to English — filed a case in Tis Hazari courts along with Paras Ram and Rai Singh over acquisition of 752.6 acres.The case has since been transferred to Patiala House courts.Another resident, Sajjan Kumar Singh (70) had filed a case in 2004 against the acquisition of 220 acres.

"We learnt about this only after Jeet sahab produced the records. I had heard from my grandfather that we used to stay in the Chanakyapuri area. Look at how they live and see our condition here," an angry Sajjan Kumar says.In 'Raisina colony', a frail Lok Ram is the only one who still recalls how families like his were shifted.

"I was around six years' old. My mother hurriedly woke me up one morning and said we were moving to a new home. I asked her if I could pick some khajurs (dates) from the tree in our courtyard, but she said we did not have time," Ram recalls.

His youngest son Jeetendra, who works at a private courier shop in Geeta Colony in East Delhi, claims that the khajur tree is still in the greens surrounding Parliament House.