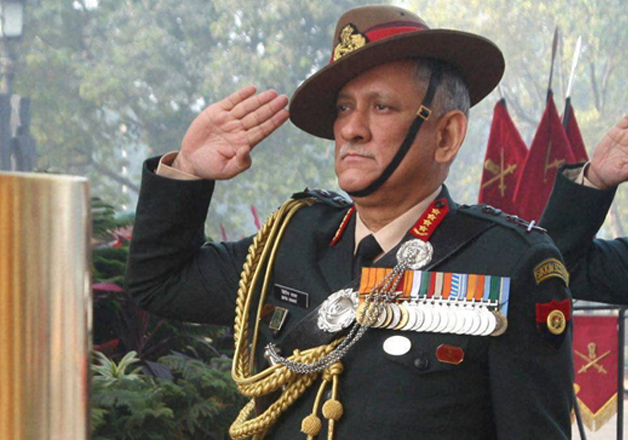 Army Chief General Bipin Rawat has assured countrymen that Indian jawans are fully capable of handling any adverse situation, be it in the border areas or anywhere in the country.
Speaking exclusively to India TV, Gen. Rawat said that the role of the force is to maintain peace and tranquillity but 'whenever needed, it will not shy away from flexing its muscle'.
Praising the work done by his predecessor Gen Dalbir Singh Suhag, he said, "If a terrorist comes as a fidayeen, he will succeed up to some extent. We are working on reviving the intelligence setup to know the nature of attacks and neutralise terrorists as early as possible.
"It is not necessary that terrorists will target an army base or camp again... they keep changing their modus operandi," he added.
Gen Rawat also came out in praise for both the Army and the government for the surgical strikes at terror launch pads in Pakistan occupied Kashmir, saying the government has managed to send a stern message that attacks will not be tolerated.
"Our Army is fully capable. Our junior officers executed it (surgical strikes) very well. We only provide them proper guidance... and yes, the government supported us. Government has sent across a message with surgical strikes that attacks won't be tolerated. We have succeeded."
When asked about his priorities in Kashmir, the Army chief said that he will work towards restoring peace in the region while taking the people on board.
"We have to be very alert. To fight a guerrilla, you have to behave like a guerrilla... we must speak to the people, we will reach out to them because they play a vital role in any action," he said.
He said that any attack or operation is more dangerous for civilians living in the region than for armed forces.
"Civilians don't have arms, ammunitions to safeguard themselves. And thus civilians suffer the maximum. Army has bunkers and we have constructed few bunkers for people as well but if Pakistan continues to spread terrorism we will surely react," he said.
"Indian Army will not shy away from a second surgical strike if peace in the region is disrupted," he added.
The appointment of Gen Rawat as the chief of the Indian Army comes close on the heels of the appointment of Pakistan's new Army chief.
To a question on Pakistan's new Army Chief General Qamar Javed Bajwa, he said, "We have to adopt wait and watch policy, Gen Bajwa is the new Army Chief... And if Pakistan wants good relationship with us, we will surely welcome it."
Gen Bajwa also touched upon the growing proximity in ties between India's two key neighbours – China and Pakistan.
"The policy of a country is developed on the basis of its national interest. As far as Pakistan and China are concerned... China wants direct access to Indian Ocean. We are dealing through cooperative means, we keep doing meetings with our Chinese soldiers. We also want to deal with Pakistan through cooperative means... and you have also seen our response. But if confrontation continues.. we will hit back."
Gen Bajwa, during the conversation, also brushed aside the controversy related to his appointment as the new Army chief.
"My appointment was the decision of the government and I accept the government's decision with all humility. The responsibilities to the Army are given by the government we are bound to abide by it. Myself, Gen. Bakshi and Gen. Hariz have worked together in past. I have enjoyed tremendous support from the two senior officers. I would like to tell you that they are not supporting me, but the whole Army that I am in charge of."
When specifically asked whether he sees politics in his appointment, he replied, "I don't want to indulge in such happenings. Under what circumstances they (government) have taken this decision is only known to them. I only know how to discharge my responsibility."
A major controversy had erupted last week when government appointed General Rawat as the new Army Chief, superseding two senior most Lt Generals --Praveen Bakshi and PM Hariz.
On December 31, Gen Rawat took over as the 27th Chief of the 13 lakh strong Indian Army succeeding Gen Dalbir Singh Suhag, who retired after 42 years of service.