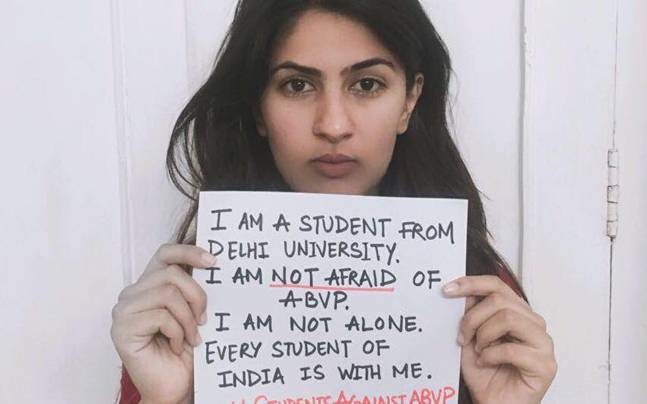 Delhi University student Gurmehar Kaur has made a comeback on internet with a new blog saying, "My father is a martyr. I am his daughter. But, I am not your 'Martyr's Daughter',"
The blog that Lady Shri Ram College student posted on her Twitter handle with more than 54,000 followers has been doing rounds on the internet.
Gurmehar , daughter of Indian Army Martyred Captain Mandeep Singh, became a point of heated social media and TV debates after she spearheaded a social media campaign against the ABVP's violence in DU. Ex-cricketer Virender Sehwag and actor Randeep Hooda also got embroiled in the controversy following their tweets that many accused as having a 'bullying tone' to them.
Kaur's father was martyred in a militant attack in Jammu and Kashmir's Kupwara district on August 6, 1999, four days after the end of Indo-Pak war in Kargil.
Read her full blog here:
Who am I?
A question, I could've answered without any inhibitions or a trace of wariness in my standard cheerful tone only a few weeks ago. Now, I'm not so sure.
Am I who the trolls think I am?
Am I what the media portrayed me as?
Am I what those celebrities think of me?
No, I can't be any of that. That girl you saw flashing all over your television screens, holding a placard in hand, eyebrows raised, gaze fixed at the tiny round lens of a cellphone camera, definitely looked like me. 
The intensity of her thoughts that reflected in the picture definitely had traces of me. 
She looked fiery, I relate to that but then the 'Breaking news headlines' told a different story. The headlines were not me.
Martyr's daughter
Martyr's daughter
Martyr's daughter
I'm my father's daughter. I'm my Papa's Gulgul. I'm his doll. I'm a 2-year-old artist who did not understand words but understood stick figures, which he drew in letters addressed to me. 
I'm my mother's headache, her opinionated, reckless, moody child- a reflection of her. I'm my sister's guide to pop culture and her sparring partner before the big matches. I'm also the girl who sits on the first bench during lectures with intentions of interrupting the teacher and starting fiery debates on everything and anything, just because literature is more fun that way. My friends' sort-of-kind-of like me, I'm hoping. They say my humor is dry but works on certain days (I can live with that). 
Books and Poetry are my solace.
A bibliophile, the library at home is over flooding, and my biggest concern for the last few months has been on how to convince Mom to let me shift her lamps and picture frames to create another shelf.
I'm an idealist. An athlete. A peacenik. I'm not your angry, vindictive war mongering bechari you hoped me to be. I don't want war because I know its price; it's very expensive. Trust me I know better because I've paid it everyday. Still do. There is no bill for it, maybe if there was, some wouldn't hate me so much. Numbers make it more believable.
The news channel polls screaming, "IS GURMEHAR'S PAIN RIGHT OR WRONG?", with a certain vote ratio as a result makes so much more sense to us normal public.