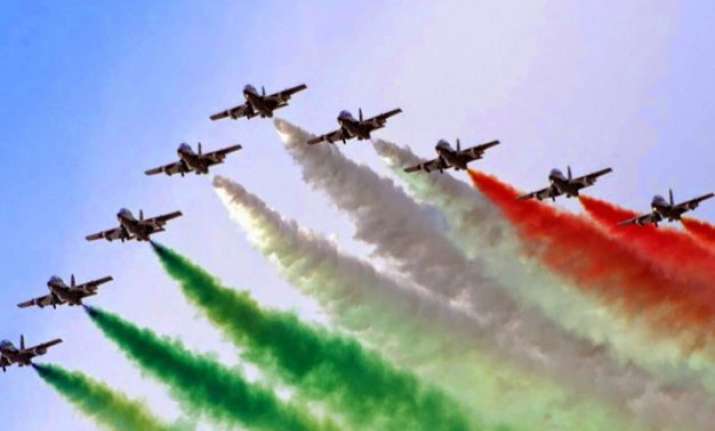 New Delhi: Planning to live up the Republic Day fever to the fullest by trying some tricoloured make-up? Here's how!
Make-up artist Ishika Taneja, executive director of ALPS group, has shared tips on how you can play with saffron, white and green colours on your eyes, lips, nails and even hair:
* Ombre liner with bright orange lips
Eyes: At the foremost, prime your eyes using a nude eye-primer. This will allow the tricolour to appear more prominent on your eyes. Then, draw a thick winged liner using white liner on your upper lid. Let it dry - now coat the inner half end of the liner with an orange color and the outer extended line with a green hue. And, that's it be up exhibit the zeal of Republic Day through your eyes.
Lips: Apply a creamy-textured lip color in orange hue on your lips and coat it up with a translucent gloss.
* Green or shades of green liner with orange lips
Eyes: After applying the primer, pick the National Flag green hue in metallic to increase the oomph factor. Now do the graphic liner above your lashes. Make sure to inscribe your favourite shape - triangle, cubes,
or inverted triangles to have an edge above the rest.
Lips: Layer on your lips with a burnt orange hue and blot off the lips using some blotting paper to take
off that extra colour. You'll be ready with a look that's selfie-ready.
* Tricolour smokey with peach-hued lips
Eyes: Applying an eye-primer on your upper eyelids. Start with inner corner of the eye by applying an orange shade eye-shadow and finish off with green to flaunt this 'flag-inspired' smokey to the best. Do not forget to line your lower lash line with black and apply two coats of mascara with that added dose of drama.
Lips: A peach hue in gloss texture also does the task of a ravishing orange. So, after filling in your lips with a peach hue, don't forget to gloss-it-up with a transparent gloss. Do make sure use a lip-plumper.
-*-
For nails
* Tri-coloured polka dots: Apply few coats of white nailpaint and let it dry. Now, dab-on dots with green and orange hue over it. Be sure to coat your nail-do, with a transparent laquer to seal it.
* Ombre effect: For this, paint your nails white and when it dries, colour it in ombre manner. For this, keep
tape-cuttings on your nail and colour it with orange and green colour and the upper and lower part of nail, respectively. Let it dry and peel off the nails for a fashionable Republic Day!
* Patriotic abstract: After coating your nails in white, apply green and orange colours diagonally. Now smudge the colours using a paper-pin. And, here you go with you super-patriotic nail art.
* Tricoloured French nails: Coat your manicured nails with a nude hue - now colour the tip in tricolour. For
this, just apply a white nail-paint over it and slide the three colours carefully.
-*-
For hair
* Messy braid with tricoloured ribbons: Apply a sea-salt spray and scrunch you hair for a tousled look. Now back-comb, and fix tricoloured ribbons behind your crown area. Now weave a classic messy braid which exhibits each coloured extension separately, with grace.
* Top bun with tricoloured accessory: After applying a serum to your entire hair length, fix it in a messy top bun or chignon and adorn with a heavy, republic-day inspired accessory. You may also create a pouf at the start, and then use the accessory on it.
* Romantic curls with orange and green extensions: Romantic curls are so much in trend. Don it on this special occasion, with bright hued orange and green extensions. You might as well create your own extensions at home. For this, take blonde extensions and colour it using the refills of orange and green sketch pens.
Voila, you're Republic Day ready!