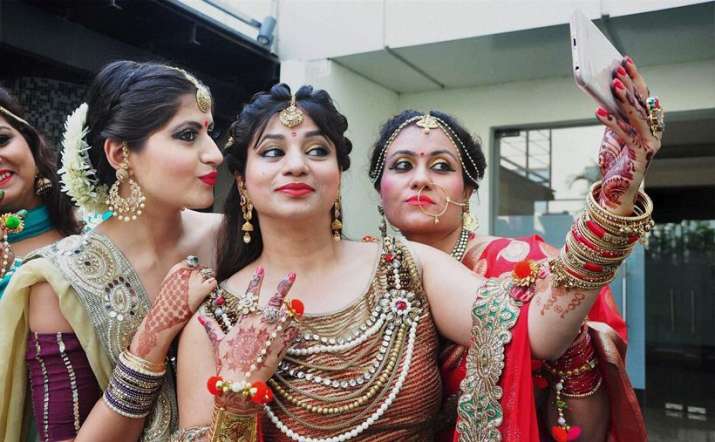 Karva Chauth/Karwa Chauth is the festival of Hindu married women and you can feel the festivity in the air. Married women of Northern India have started their fasts with pre-dawn meal called sargi. Karwa Chauth is celebrated on the fourth day of Krishna Paksha in the month of Kartik, however, preparations of the festival begin a month in advance. From buying saree, lehenge and makeup to deciding about the cuisines for the auspicious day, everything is done with great fervour.
On this day, women observe fasts for long lives and prosperity of their husbands. They worship Goddess Gauri in the evening and break their fast on seeing the moon. The fast is very tough as women cannot even drink water throughout the day. Now, husbands also fast for the togetherness with their darling wives. On October 8, moon will rise at 20:14, however, do check the timing in your city. The muhurat of puja is between 17:55 to 19: 09 according to drikpanchang. You can worship the goddess within 1 hour and 14 mins. On this day, women dress up like brides with ''solah sringar''. They put henna or traditional mehndi on their hands. Mehndi occupies a significant place in Indian women's lives especially on auspicious occasions such as Karwa Chauth. It is popularly believed that darker the colour of mehndi on your hands, more you will be loved by your in-laws and husband.
So, here we are with the most trendiest designs of mehndi which you can try on Karwa Chauth
Rajasthani Mehndi: Rajasthani mehndi designs reflect the culture of Rajasthan. From 'dulha-dulhan' designs to dholak and shehnai art, all of them are breathtakingly beautiful.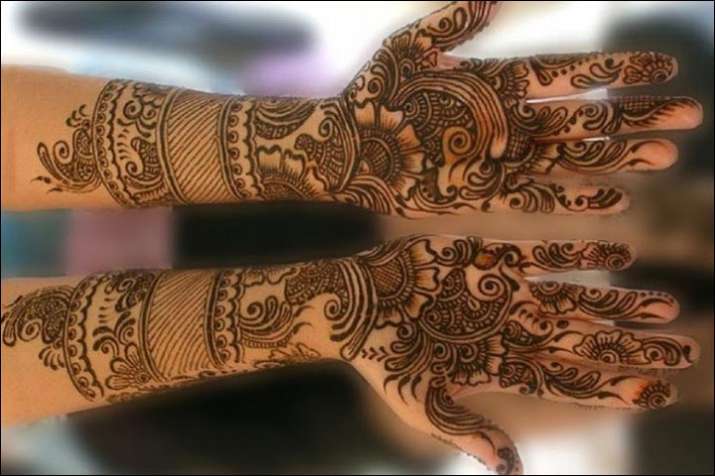 karva chauth, mehndi
Arabian Mehndi: Arabic style of mehndi is less intricate than the Rajasthani one. Beginning from the palm and continuing beyond the wrist, this style also covers the dorsal area with almost similar pattern.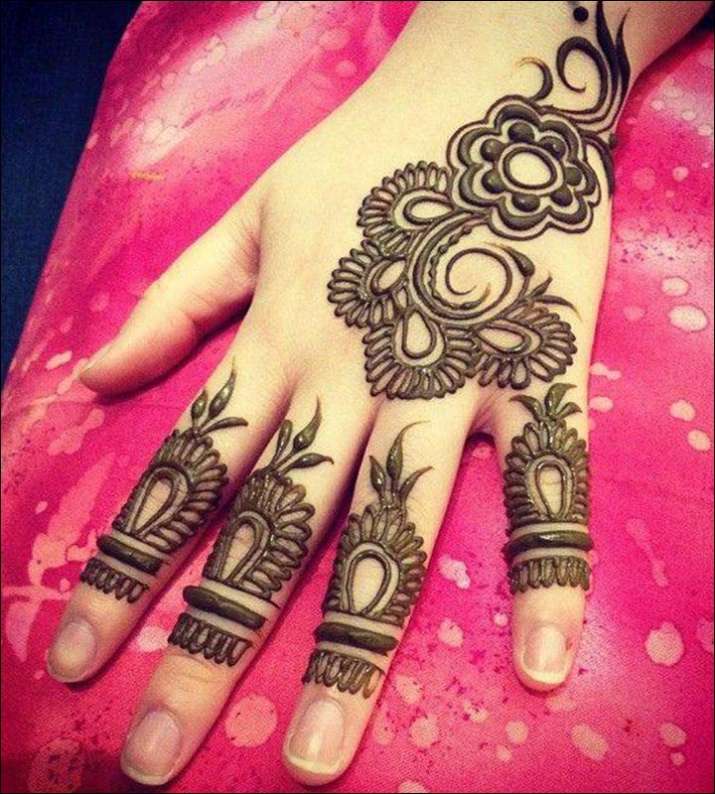 karva chauth, mehndi
Pakistani Mehndi: Pakistani mehndi designs has elements from both Indian and Arabic style. From Hyderabadi Pakistani mehndi designs to joint flower hand mehndi designs, you can try any of them this festive day.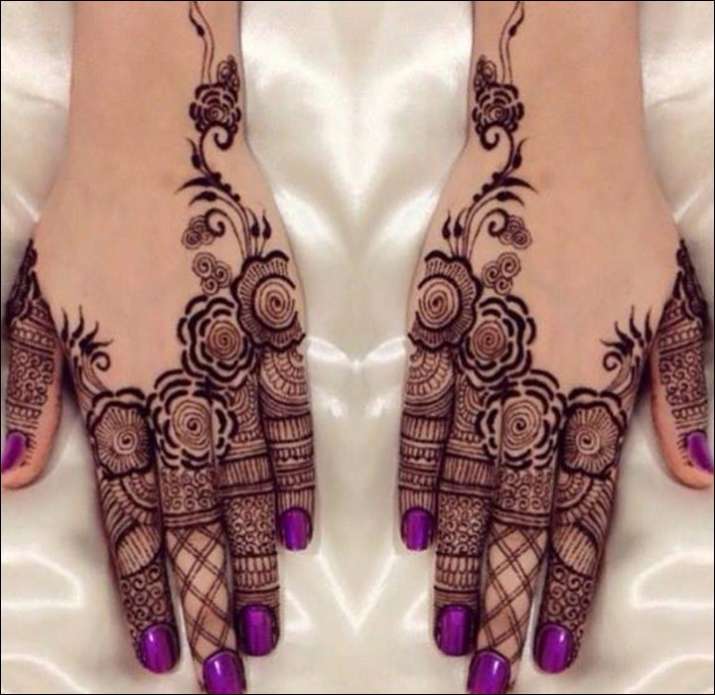 karva chauth, mehndi
Shaded Mehndi: This is a pretty design which even beginners can try. The unique feature of this design is floral motifs along with shading.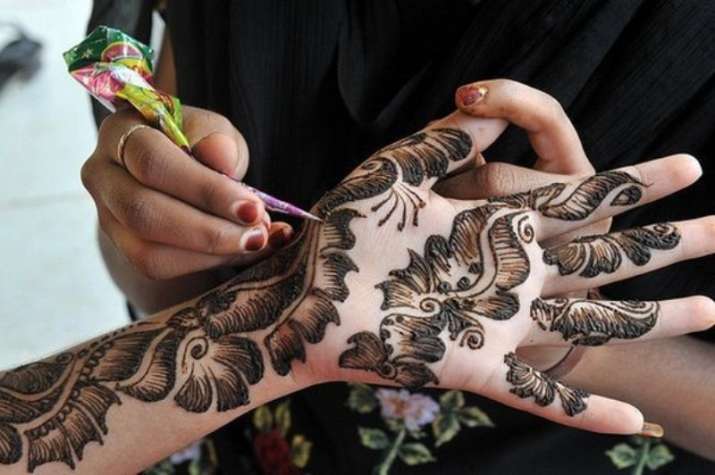 karva chauth, mehndi
Stone Mehndi: Women are now experimenting even with mehndi styles. The latest one is stone mehndi in which stones are carefully placed within the designs to give it an attractive look.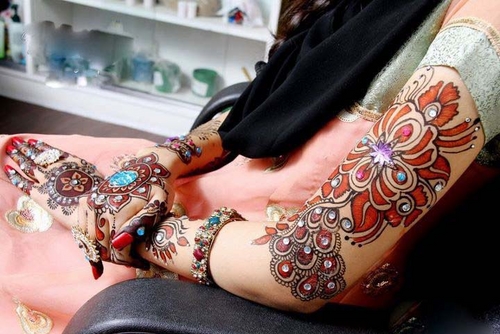 karva chauth
Glitter Mehndi: Mehndi designs with glitter are eyeball grabbing. Colourful glitter along with dark brown hue of henna gives tattoo-like look.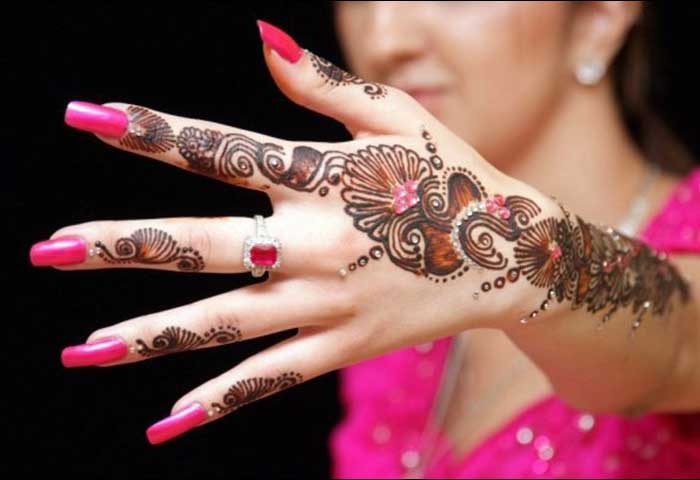 karva chauth, mehndi
Floral Mehndi: If you have a busy schedule and you love mehndi, then jewellery design is for you. It takes minimum time and looks stylish as well.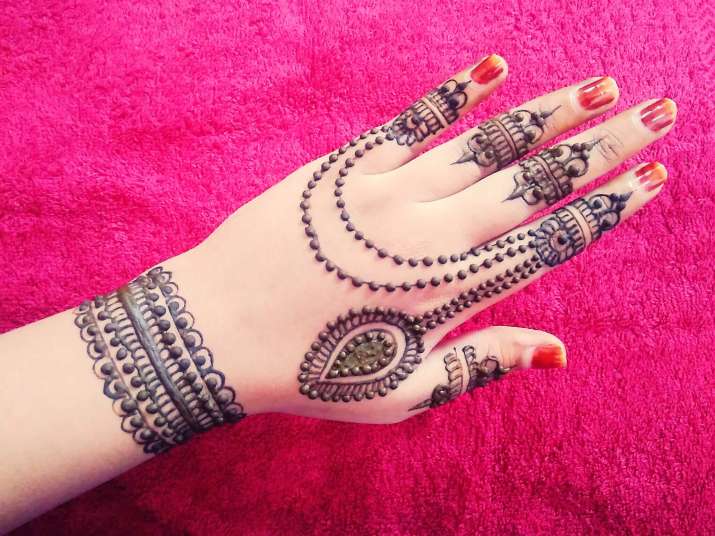 karva chauth, mehndi
Tips for darker mehndi on your hands:
Long hours to dry: Give henna enough time to dry. If possible, apply at night so that it get at least 9 hours to dry. This will not only make your mehndi darker but it will also sustain for long.
Don't touch water: Do not do household work and keep your hands away from water as much as possible. Even after scrapping the crust, do not touch water for at least an hour.
Lemon sugar mixture: Dabbing lemon-sugar mixture on dry mehndi can do miracle. For this, boil some sugar in water, allow it to cool and then squeeze few drops of lemon juice in it. Apply it with cotton.
Clove fume: Running your hands over clove fume can also help in deep penetration of colour. After dabbing lemon sugar mixture, heat cloves on tawa and let the fume dry your hands.