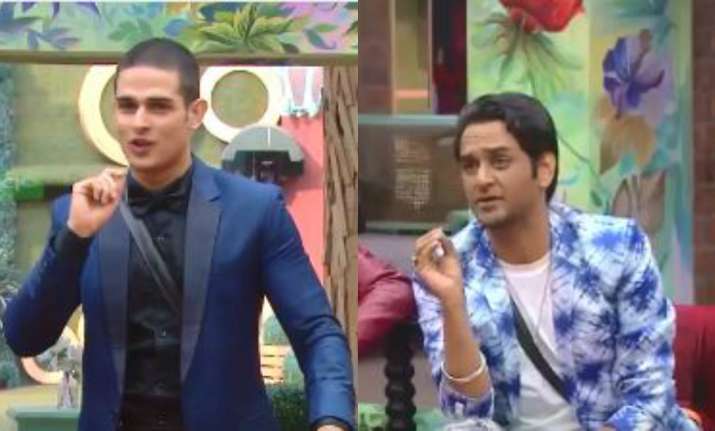 Bigg Boss 11 house witnesses new friendships and rivalries everyday. Vikas Gupta and Priyank Sharma who entered the show as friends, now share a sour relationship. Every now and then, the duo is seen arguing with each other. Last time, Priyank said the word, 'guchpoo' to make housemates laugh and it didn't go down well with Vikas and even his brother, Siddharth Gupta. On a related note, Vikas's mother used to call him by this name.
But the matter didn't stop here. The fight was brought before the host Salman Khan and even there the friends-turned-foes continued to fight. In the latest video shared by Bigg Boss Twitter handle, we can see Vikas and Priyank spewing venom against each other. Salman calls Priyank so that he can address the issue he has with Vikas. The host then asks him to answer the allegations of Vikas that he does everything for camera. This irks Priyank and he tells that they are friends just for namesake. ''Vikas feels that everyone here is doing things mere for camera. First he targeted Shilpa Shinde, then Hina Khan, Arshi Khan and now finally me. He himself does so many publicity stunts. He created a hill out of a mole on the word 'guchpoo'. I even apologised to him but of no use. He wants me toe his line which is not possible,'' said Priyank to Salman.
Meanwhile Vikas angrily says that he doesn't know Priyank Sharma. He accuses Priyank of taking his help in everything and even calls him a cry baby. ''I am ready to leave the show if anyone says that I have ever taken Priyank's support,'' says Vikas.
OMG! The mercury inside the Bigg Boss house is high even in December. Well, we can't guess whether Priyank and Vikas will ever be friends again or continue to hate each other even outside the house. On a related note, this week Luv Tyagi, Shilpa Shinde, Hiten Tejwani and Priyank have been nominated. 
.@BeingSalmanKhan karenge @lostboy54 aur @ipriyanksharmaa ke jhagde ka hisaab! Catch all the action tonight at 9 PM. #WeekendKaVaar #BBSneakPeek pic.twitter.com/mShWRgYWCm

— Bigg Boss (@BiggBoss) December 16, 2017