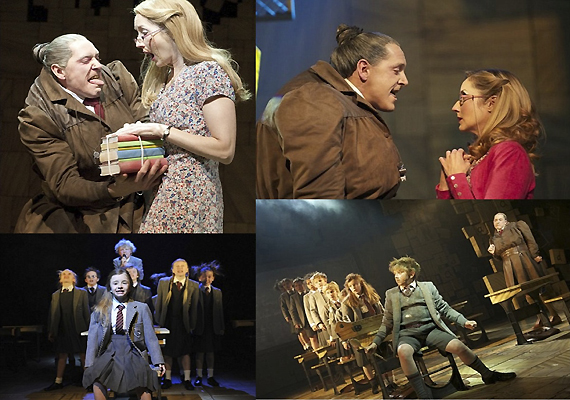 London, Mar 15: Broadway-bound show "Matilda The Musical" gained 10 nominations Thursday for British theater's Laurence Olivier Awards -- including a joint best actress nod for the four children who share the title role.

Based on Roald Dahl's tale of an extraordinary little girl from an ordinary family, the show is nominated in every possible category, from set and lighting design to best new musical.

Written by the playwright Dennis Kelly, with music and lyrics by Australian comedian and composer Tim Minchin, "Matilda" was produced by the Royal Shakespeare Company, which has announced it plans to open it in New York early next year.

Its competition for best new musical includes three movie adaptations -- "Ghost The Musical," "Shrek The Musical" and "Betty Blue Eyes," which is based on the 1984 film "A Private Function." Also nominated is "London Road," an innovative, reality-based musical drama about a neighborhood traumatized by a serial killer in its midst.

The Olivier awards, Britain's equivalent of Broadway's Tonys, honor achievements in London theater, musicals, dance and opera. Winners in most categories are chosen by a panel of theater professionals and members of the public.

This year's trophies will be handed out April 15 during a ceremony at London's Royal Opera House.

Two retro-styled British comedies -- Ealing Studios-inspired "The Ladykillers" and 1960s-set farce "One Man, Two Guvnors" -- lead the non-musical categories with five nominations apiece. Each is up for best new play, alongside Stalin drama "Collaborators" and midlife crisis comedy "Jumpy."

"One Man, Two Guvnors" opens at New York's Broadway's Music Box Theatre on April 18 with most of its original cast.

Jude Law is nominated for best actor in a play for "Anna Christie." He's up against James Corden for "One Man, Two Guvnors," David Haig for "The Madness of George III," Douglas Hodge for "Inadmissable Evidence" and the duo of Benedict Cumberbatch and Jonny Lee Miller -- jointly nominated for alternating the title role in "Frankenstein."

The best actress category pits Kristin Scott Thomas, for Harold Pinter's "Betrayal," against Celia Imrie for "Noises Off," Lesley Manville for "Grief," Marcia Warren for "The Ladykillers" and Ruth Wilson for "Anna Christie."