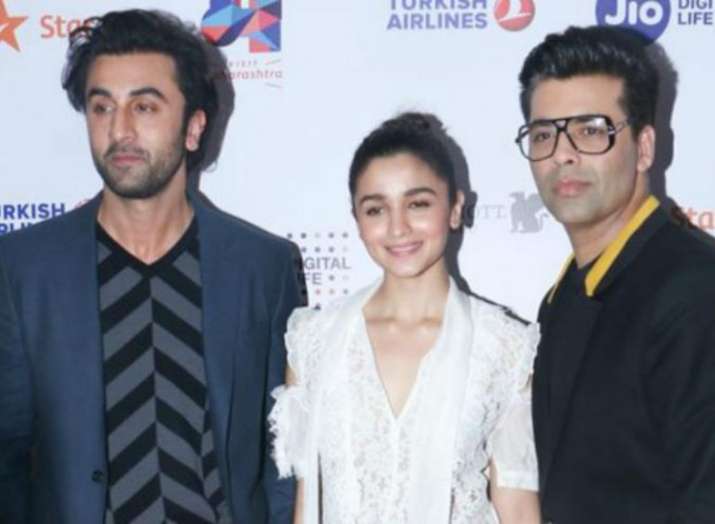 This is no secret that Bollywood diva Neha Dhupia and filmmaker Karan Johar share a very close bond with each other. So much that it was Karan who encouraged Neha to get married to Angad when he proposed her. Neha Dhupia is currently hosting the third season of her chat show No Filter Neha and it would have been incomplete without KJo getting candid. The King Of Gossip, Karan Johar's video from the chat show has popped on the internet and he is seen revealing quite naughty secrets about himself.
While interviewing, Neha asked Karan to dedicate a song to the most talked about rumoured couple Ranbir Kapoor and Alia Bhatt, KJo sang the Ae Dil Hai Mushkil title track. Isn't it adorable? Furthermore, Neha asked to dedicate a song to his toddlers Yash and Roohi and KJo had a very beautiful answer to it. He sang and also explained, "Accha chalta hoon – I never want to leave them, Duaaon mein yaad rakhna – That's when I go, Mere zikr ka zubaan pe swaad rakhna – Always think of me Yash and Roohi, Dil ke sandookon mein Mere acche kaam rakhna – I hope there is enough of work for them to remember me for, Chitthi taaron mein bhi, Mera tu salaam rakhna – I hope they always love me even when I'm gone, Andhera tera maine le liya, Mera ujla sitaara tere naam kiya – I will always be watching you'll."
Not just this, but Karan Johar also revealed his bedroom secrets as well in the candid chat. When Neha asked him to reveal his "don't ever leak this in my sex tape" moment, he said, "Many a time, I'm, I become like those, I become very coy when I'm in bed and I think those are the portions I wouldn't like releasing because where I'm giving like old school Hindi film expressions. I do like those very Dhal Gaya Din, Hogayi Shaam very like 70's songs wale expressions. Those are the parts, I wouldn't like to release because I think that would be giveaway I look like I'm not in control and I hate that feeling. I'm in control but pretending not to be that's the whole play acting I like to do when I'm in bed so the coy bits are the ones I think I would like to do away with."
While spilling the beans about his personal life, Karan Johar happened to talk about the upcoming period drama Takht as well that he will be directing. He said, "Takht is the most passionate piece of material that I think I will ever direct. I'm hugely passionate about it. I'm obsessed about the Mughal era ever since I can remember. That's the one part of history that I was obsessed about in terms of its visual texture, its controversial content, the political betrayal, the love, the lust, the decadence, the debauchery, the madness, the violence, everything. That era is exotic and it's gorgeous. It's absolutely beautiful."
He added, "It's something that I've always chased and wanted to kind of put up there and finally when Sumit Roy, the writer, came to me with the story of Dara and Aurangzeb, which is pretty much the first time I'm saying that what Takht is about. I think it is that part of history that I'm so passionate about. I can't wait to get into the prep mode which I've already started off."
Looks like we have a lot to look forward to when it comes to Karan Johar.
More Bollywood stories and picture galleries
For all latest news and updates, stay tuned to our Facebook page