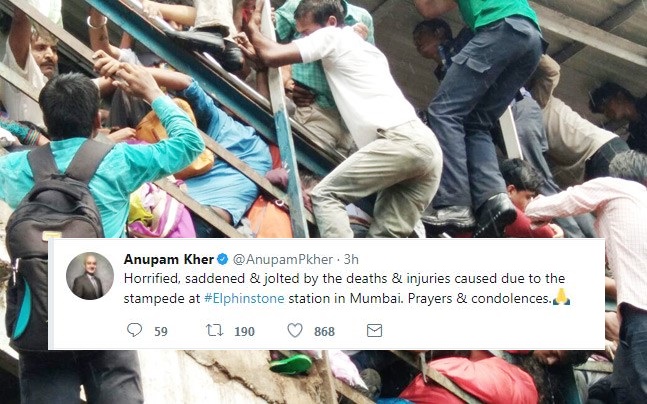 A usual day in India's busiest city, Mumbai turned into a nightmare when a stampede instigated during a rush hour. At least 22 people were killed and several were injured in a rush hour stampede which took place on a foot-over bridge linking Elphinstone Road and Parel suburban railway stations in Mumbai on Friday morning. The condition of foot-over bridge is not in a good shape. It was raining and so the commuters climbed the foot-over bridge to take shelter from the downpour. As it continued to rain, more and more people started gathering on the bridge, with none of them ready to move. A woman standing in the front row on the stairs slipped, which further led to 3-4 other people slipping. This led to a domino effect on the foot-over bridge and then at Elphinstone Road station. Soon, a stampede was prompted at Elphinstone Road station causing more than 20 deaths, while leaving over 30 injured. 
After this unfortunate tragedy, condolences started pouring on Twitter from around the country. Film fraternity and other celebrities also took to Twitter to express their grief over the tragic loss of lives. 
Filmmaker Shekhar Kapoor tweeted: Nowhere do extremes between wealth n poverty show more than in Mumbai. Costliest real estate in world and human tragedies like #elphinstone
Anupam Kher: Horrified, saddened & jolted by the deaths & injuries caused due to the stampede at #Elphinstone station in Mumbai. Prayers & condolences
Boman Irani: Scary. Tragic. Avoidable . #Elphinstone tragedy.
Riteish Deshmukh: Weak infra + Overcrowded bridges/Places = Ticking Time Bombs.. Wake up!! This is not the price to pay to learn a lesson #Elphinstone
Virender Sehwag: Deepest condolences to the innocent people who lost their lives in the stampede today for no fault of theirs #elphinstone
Raveena Tandon: Tragic . Deepest condolences to the victims families .an avoidable tragedy . Very unfortunate.