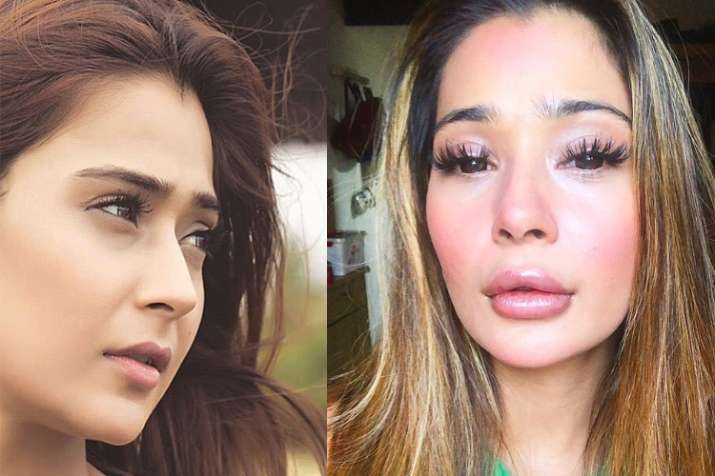 Ex-Bigg Boss contestant Sara Khan, who is also popular for her TV series Sapna Babul Ka Bidaai, has some exciting news for her fans. Sara recently took to her Instagram handle to share that she will soon come up with a new music video. Interestingly, she also shared a pic along with the message and received much backlash for her lip surgery.
In the caption of the pic, Sara wrote, ''Something exciting for the (Sapna Babul ka) bidaai lovers as it's my turn to return the love I got. Recreating bidaai's Track for u all, dedicated to all the bride to be, as this season I see a lot of marriages taking place. Super fun Track is on its way for u all with @altaafsayyedofficial #bidaai #sarakhan#sadhna #sapnababulka #starplus#recreation #nothingwentwrong #lol.''
Notably, Sara's pic received much criticism from fans. ''Don't know y this swollen lips are so much in trend now ..you were looking much better before doing this.. Kyle jenner inspired lip fillers i guess.. anyways take care,'' wrote a user. 
Another user also compared Sara with Rakhi Sawant and wrote, ''Rakhi sawant ki behan ko dekho..''
Unaffected by criticism, Sara recently in an interview with Bollywood Life, said, "I'm loving it and laughing at it. The haters can go to any extent to get the attention and I'm used to trolling.''
She added, "There is news that my lip surgery has gone wrong. My lip surgery has got completely amazingly done. And I'm loving it so much."
Further revealing that it is not a lip surgery, Sara said, ''I've used lip fillers actually. It is not a lip surgery. So, the people who are saying it's lip surgery, are wrong. It's a lip filler. There's a difference.''