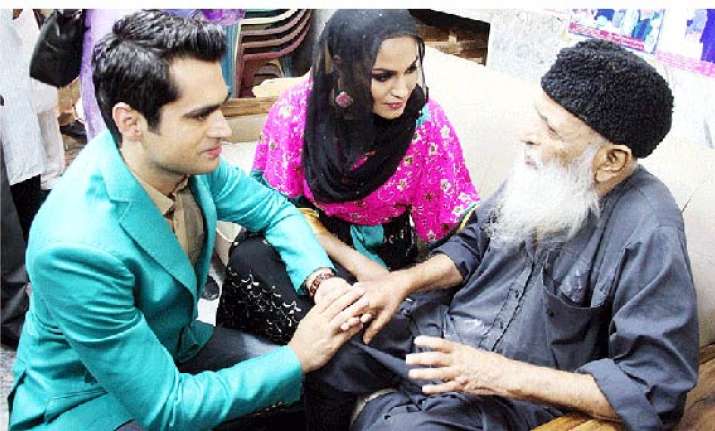 Actress Veena Malik on Wednesday visited renowned humanitarian and philanthropist Abdul Sattar Edhi to ask about his health.
As per the reports Veena also made an offer to donate her kidney to Edhi, who depends on a bi-weekly dialysis as his kidneys have failed. The actress also prayed for the early recovery of the social worker.
Veena, along with her husband Asad Khattak met Edhi and wife Bilquis Edhi at their residence. Edhi, who has won numerous accolades and recognition for his work through his Sattar Edhi Welfare Trust, has been keeping ill for sometime now with a serious kidney ailment. 
"I offered to donate my kidney to him because I feel Pakistan needs more people and leaders like him to show us the way. He is a beacon of light for all of us," said Veena as quoted by a leading daily. The offer was politely declined by Edhi.
 "The services of Edhi Sahab are great,"  added the actress.
Veena has always grabbed the attention for making controversial statements and photo shoots. Veena has always made headlines when she was in India and even shocked Pakistanis with her scandalous behaviour.
The actor said love and respect for Edhi could not be expressed in words and added that the entire world recognised his services to humanity.