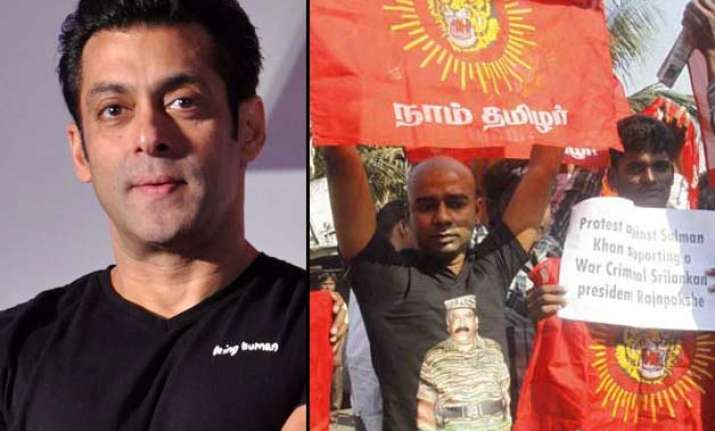 New Delhi: The year doesn't seem to have opened on a good note for actor Salman Khan. The actor faced a protest by a Tamil group outside Galaxy Apartment earlier today for visiting Sri Lanka in support of President Mahinda Rajapaksa ahead of presidential elections.
The demonstrators shouted slogans, "Salman Khan down down" holding placards condemning the superstar for going to Colombo with 'Kick' actress Jacqueline Fernandez, a former Sri Lankan beauty queen and Bollywood actress to campaign for Rajapaksa.
The Tamilians flashed posters of Prabhakaran, who was killed by the Sri Lankan military in May 2009. They also carried flags of the still outlawed Liberation Tigers of Tamil Eelam (LTTE).
An officer from Bandra police station told IANS that policemen were deployed at Salman's residence during the demonstration. He said some of the protesters had been detained.
Security has been increased outside the actor's Galaxy Apartment.
On December 30, 2014 Salman Khan went to Colombo to campaign for Mr Rajapaksa on the invitation of the latter's son Namal, who is reportedly the Jacqueline's friend.
Mr Rajapakse is contesting for a third stint as Sri Lanka President. This is reportedly the first time that a Bollywood actor has been roped in for a poll campaign in Sri Lanka.