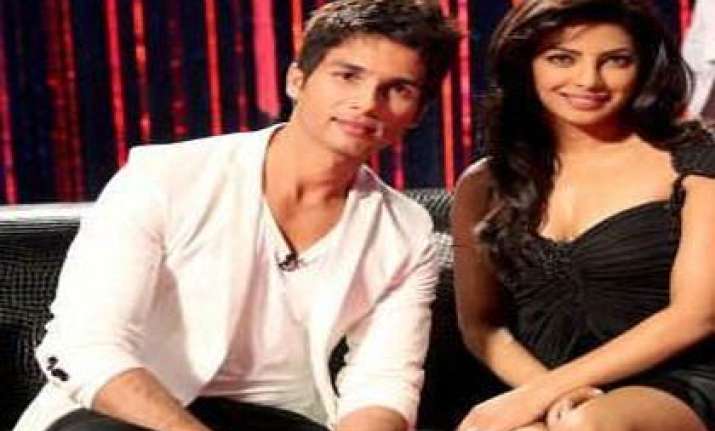 Shahid Kapoor and Priyanka Chopra, one of the hottest couples of Bollywood, did not spend Valentine's Day together on Monday, says a media report.The report said, the B-town's turbulent couple had a major spat and did not spend the day together.
Forget spending quality time together on Valentine's Day together,  the couple didn't even exchange a single word, says the report. 
The report quoted a common friend of the couple:  "Normally, both would have woken up to mushy messages from each other. In fact, just a few days ago, their friends were teasing them about the same. Lekin aisa nahin hua."The fight happened over a trivial issue. Adds their friend, "These two can neither live with each other, nor live without each other.'
What do they fight about, we asked? "They fight over deciding the menu in a restaurant. They also fight when either of them cannot devote time to the other. For example, when Priyanka got excessively busy with Don 2 it led to both of them deleting each other from their social networking sites."
Their last fight was when rumour had it that Priyanka had gotten quite friendly with
Ranbir Kapoor
while shooting for Siddharth Anand's Anjaana Anjaani; and then when she also went ahead and signed another film opposite Ranbir during this period, Anurag Basu's Silence. 
Shahid they say was livid. Repeated calls and text messages to Priyanka and Shahid did not evoke a response.