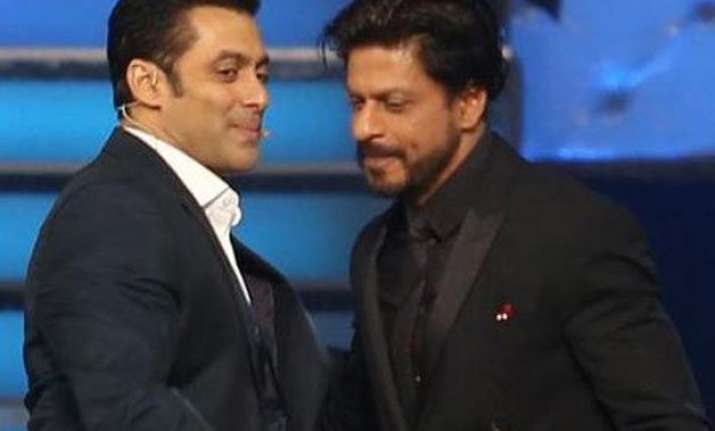 Mumbai: Superstar Salman Khan says Shah Rukh Khan's film "Raees" may be clashing with his "Sultan" next Eid, but the latter has nothing to worry about as he has always had a 100 per cent record against the "Dabangg" star.
"I have released two films with SRK – 'Jaan-E-Mann' with 'Don' and 'Saawariya with 'Om Shaanti Om'. And both the times Shah Rukh's track record was 100 per cent. So, he has got nothing to worry about. If anyone should worry then it is me," Salman said in an interview.
Directed by Rahul Dholakia, "Raees" is an action-thriller which will see Shah Rukh opposite Pakistani actress Mahira Khan along with Nawazuddin Siddiqui.
Salman will feature in "Sultan", whose leading lady is et to be finalised. The movie will be produced by Aditya Chopra.
Recently SRK had said that since he and Salman have become friends now, he no longer considers their films releasing on the same day as a clash.
This Eid, Salman is looking forward to the release of "Bajrangi Bhaijaan", which also stars Kareena Kapoor.
The shooting of "Bajrangi Bhaijaan" was a tough time for Salman as the judgement on his 2002 hit-and-run case was pending.
When asked if he ever feels scared that there is so much money riding on him due to his pending projects, Salman said, "No it doesn't… why should it scare me. Does it ever scare you because that much money is not riding on you."
The 49-year-old star said "Bajrangi Bhaijaan", which releases on July 17, will bring back the innocence he had on screen in 1989 film "Maine Pyar Kiya".
"'Bajrangi Bhaijaan' will bring back the innocence that I had in 'Maine Pyar Kiya'. I am playing a realistic character, it is larger than life. The film is made on a grand scale. It is by far the biggest character that I have played. I have put on lot of hard work for it," he said.
"Bajrangi Bhaijaan" will reunite Salman with his "Kick" co-star Nawazuddin Siddiqui.
"He (Nawazuddin) is a positive and hardworking man. The good part is that he hasn't allowed success to get into his head. He likes his work and is not bothered about the result," the "Bodyguard" protagonist said.
The film also has child actor Harshali Malhotra and Salman had a great experience of working with her.
"She is an amazing actor with an impeccable timing. When and if she becomes big and becomes the lead actress she will give all the other actresses a run for the money. The first thing she told me when I met,'Aap mujhe aap ki tarah ek superstar bana do na please (Make me a superstar like you)'," Salman said.
"I thought her mother would have taught her to say it but that wasn't the case. She has set her goals at such a young age. I hope she doesn't lose her innocence with all the attention she is getting," he said.