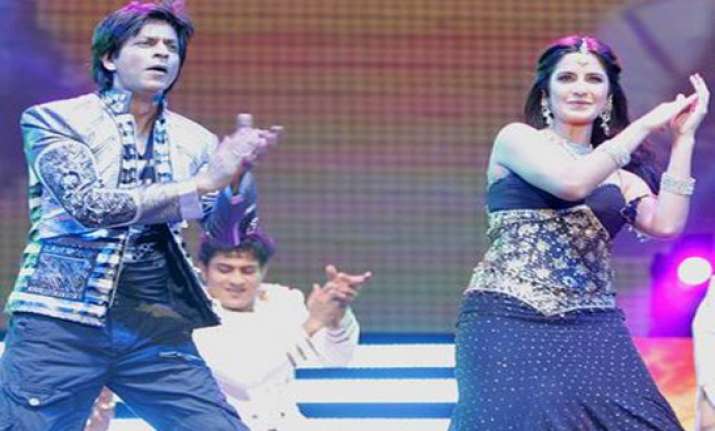 Mumbai, Jan 7 : Bollywood star Shah Rukh Khan does not want any 'maramari' on his sets, particularly  in the film being directed by 75-year-old Yash Chopra starring him and Katrina Kaif.
 
Mumbai Mirror reported today before starting to shoot for the film, King Khan asked his leading lady whether she was comfortable working with him considering his differences with her ex-boyfriend Salman Khan.
 
Katrina had to reassure SRK that she had no hassles working with him before the shoot could begin.
In the past Salman Khan has disrupted shoots featuring his former girlfriends.

The shoot of Aziz Mirza's Chalte Chalte had to be stopped when Salman barged in on the sets of the film. 

Deciding to avoid the risk of facing disruption once again,Shah Rukh replaced Aishwarya Rai with Rani Mukerji in the project back then.

Perhaps it was due to past experience that SRK asked Katrina before beginning the shoot with someone as senior as Yash Chopra, says the report.

Shah Rukh wanted no problems on the sets. Yashji is over 75-years-old. He is directing a film after a long time.

Only when Katrina assured Shah Rukh that there was no question of any intrusion did he agree to start the shoot, informed the source.

The first schedule for the Shah Rukh-Katrina film begins next week.Katrinas equation with Salman is very clear.

They are very good friends, but if  he does the ex-boyfriend act with her, he will lose her goodwill for good.

For Shah Rukh who has been through some nightmarish experiences with Salman, the tranquil equation that Katrina shares with Salman was not easy to understand.

Having understood the equation Shah Rukh now feels he can shoot the film in a relaxed atmosphere, concluded the source.