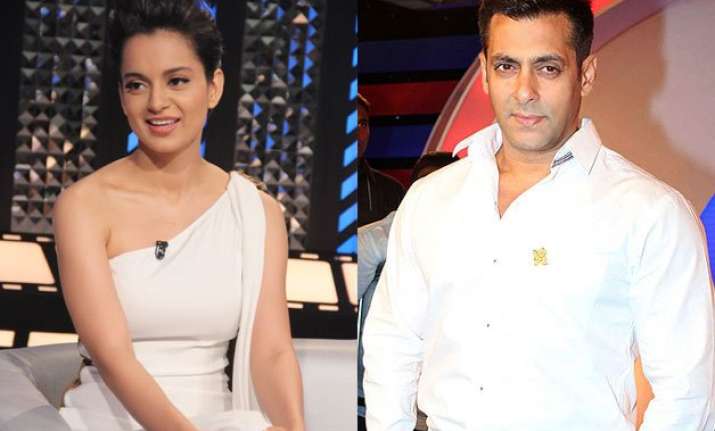 New Delhi: It seems like Bollywood actress Kangana Ranaut is not having a good time in the industry these days, especially in terms of relations with co-actors.
Just a few weeks back, Kangana got involved in a cold war with her competitor Deepika Padukone after the release of Tanu Weds Manu Returns.
Their cold war was quite evident with Kangana's open reactions about Deepika not being supportive enough to her.
While this rivalry between the two leading Bollywood divas gained a lot of attention, Kangana Ranaut is all set to create another buzz in the B-town.
Yes! After targeting Deepika Padukone, the 'Queen' actress has taken a dig on Salman Khan.
Reportedly, Kangana Ranaut whose last film 'Katti Batti' was box-office flop has blamed Salman Khan for the failure of the film.                            
According to the media reports, the 'Bajrangi Bhaijaan' star has recommended 'Katti Batti' to Kangana which was helmed by Nikhil Advani. Salman has reportedly convinced Kangana for 'Katti Batti' for Nikhil as he was working with him on 'Hero' starring Sooraj Pancholi and Athiya Shetty.
And ever since 'Katti Batti' tanked at the box office, Kangana is blaming Salman Khan for making her do the film.
However, a close source to Salman has reportedly cleared the air about Kangana's misunderstanding stating that the 'Kick' star never asked Kangana to do 'Katti Batti'.
The source also added that Salman suggested Kangana to let Nikhil Advani narrate the script to her, and it was Kangana's decision to do Katti Batti.
Reportedly, Salman's close aide also took a dig at Kangana's previous flops saying that if she is blaming Salman Khan for the disaster caused by 'Katti Batti', then whom she is planning to blame for her other disasters – 'Rajjo' and 'Revolver Rani'.