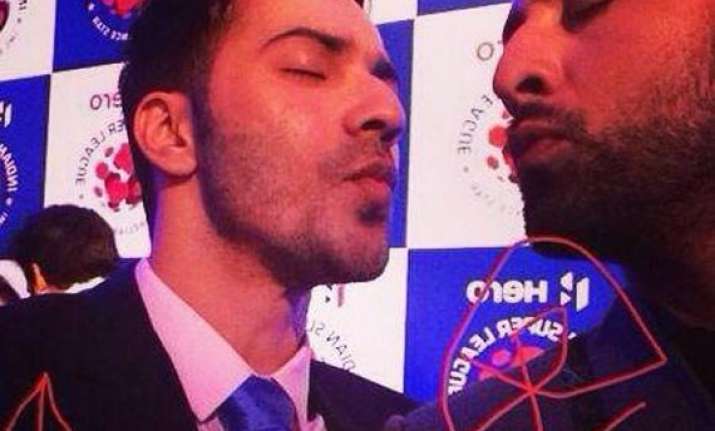 New Delhi: Karan Johar are you seeing this? This will force you to make another addition to the sequel of Dostana. Ranbir Kapoor and Varun Dhawan were the two stars among others at Hero 'The Indian Super League' (ISL) logo launch in Mumbai who found their own sweet time for some 'masti'.
The snap shared on twitter show the two dressed in a gentlemen style and coming closer with intention known to one and all. What more would have happened thereafter for that we allow you to imagine.
While recently at the screening of 'Badlapur' we saw Varun displaying bromance amid huge gathering with none other than Arjun Kapoor, this time on his radar it was Barfi actor.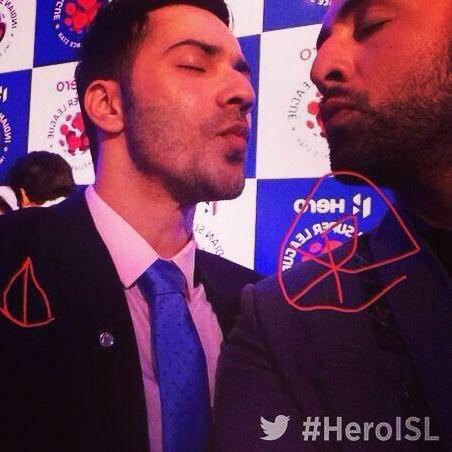 Well, we guess what Ranbir's girlfriend Katrina Kaif must be thinking about it?
Varun Dhawan is the brand ambassador of FC Goa, which is co-owned by Videocon Group and I-League side Dempo. Also present at the event were other star team owners namely Sachin Tendulkar, John Abraham, Abhishek Bachchan among others.
While all of them were busy launching the glamorous football league in India, Varun and Ranbir were the stars busy in themselves.
Later Varun at the event said that his team will play an attacking brand of football.  "Who doesn't like Goa. You will be a fool not to like Goa. We have the two giants of Indian football in Goa -- Dempo and Salgaocar. Goa will be playing an attacking brand of football. Watch out for us".
Well, we wish his team and all other teams all the very best for the league, which will commence from October 12th to Dec 20th in eight Indian cities this year.