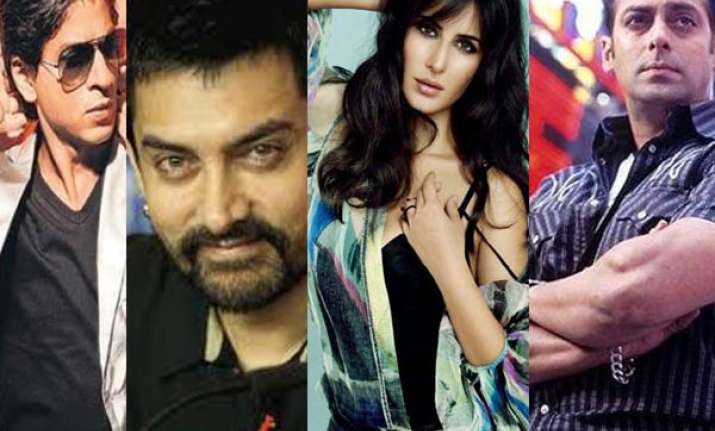 Bollywood star Katrina Kaif has become the second actress after Kareena Kapoor to work with all the three Big Khans in the industry.In 2011,after managing to sign a film with Salman and Shah Rukh,she has now snagged Aamir for Dhoom 3, says a report.  

Kareena is working with all the three Khans (Salman in Bodyguard,Shah Rukh in Ra.One and Aamir in Reema Kagtis untitled next) this year.Not one to be outdone,Kat has an untitled project with Shah Rukh,Ek Tha Tiger with Salman and has now all but signed Dhoom 3 with Aamir, says the report.

Despite reports of the banner approaching Holly actresses like Natalie Portman,Eva Longoria and Penelope Cruz, insiders confirm that Kat has been signed for the role.

Given her promixity to producer Aditya Chopra, it is hardly surprising that she has worked her way into the project.An insider says, To accommodate a film with Aamir, she let go of the chance to work with her ex-boyfriend Ranbir Kapoor in Ayan Mukerji's next. Even though she showed interest in Ayan's film, behind the scenes she was trying hard to adjust dates for Dhoom 3.

Katrina has been waiting for a chance to work with Aamir and even tried her luck for Reema Kagti's untitled film but Kareena grabbed that role.Kat has requested to get Shah Rukh to adjust his dates for their Yash Chopra directed film together, so she could accommodate the latest film in the Dhoom franchise.

Since she is working with the same production house on another project, they too are trying to make it possible for her to be part of the franchise.

Meanwhile, a second option is being kept ready if the date issue isn't resolved. A new face is being trained for the stunts and other areas of acting if Kat's date issue isn't resolved.