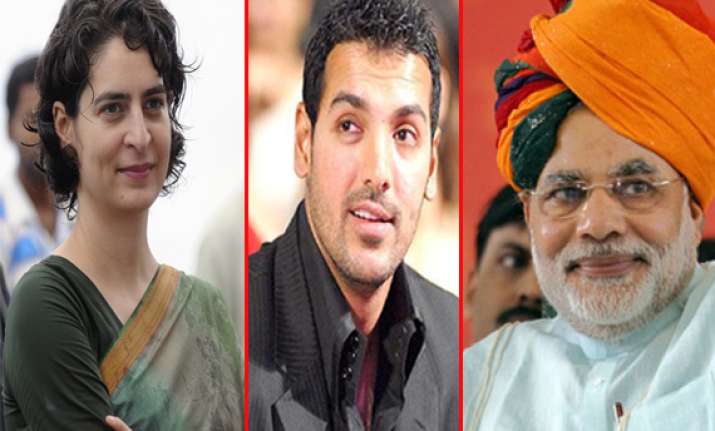 Mumbai: "If the Congress comes to power, the one woman I have a lot of faith in, is Priyanka Gandhi. She is a powerhouse. And if the opposition comes to power, Narendra Modi is really able. I believe he is not the Chief Minister of Gujarat but the CEO of the state".
Thus spake Bollywood actor John Abraham in an interview to a daily newspaper ahead of the release of his film Madras Cafe.
Such replies give an indication of the political preferences of our Bollywood celebs, who watch India through a different prism. Either black, or white, no Third Front.
Asked whether he was politically inclined, the motorbike freak and action hero had this to say: "I am apolitical but I am politically aware of the scenario across the world. I don't have any political inclination towards any party.
"For me, an image of a politician has always been  negative and while I have thought of roughing up certain politicians, I don't know if I ever wanted to b a part of it.
"I was once asked by a senior politician to campaign for him, but I told him, 'Sir, I have no idea what you are up to and if people get influenced by  what I am saying and vote for you, then I will be responsible." In 2014, I hope w have a stable government and not a coalition one".