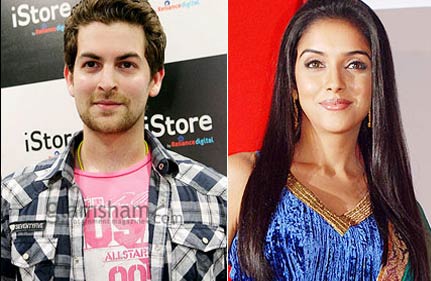 Bollywood struggler Asin seems to have found a new godfather in Bollywood. The latest buzz suggests that Neil Nitin Mukesh is so impressed with the actress's talent and beauty that he is recommending her name to anyone willing to work with him, says a media report.
Neil himself has been struggling since his debut. Recently, he was finalised for Ravi Chopra's Pocketmaar . And no sooner had he signed on the dotted line than Neil recommended Asin's name to Chopra.
Asin's  Bollywood career has mostly floundered after Ghajini . She has been constantly losing projects. Asin, it seems, is willing to latch on to even the not- so- successful Neil for a few new projects.
The grapevine has been quick to put two and two together, to suggest something more than friendship brewing between the two.
" The two have been seen together at several dos, and also spotted having coffee together. The two look quite comfortable with each other.
Often, they arrive and leave together," said a source in Chopra's unit, adding that Neil's push might just be enough for Asin to bag the film.
Others are not so convinced about the rumours.
" Neil is known to be close to most of his past co- stars such as Katrina and Mugdha, and also a friend in need. Since he considers Asin a friend, he is trying to help her in Bollywood," the source says.