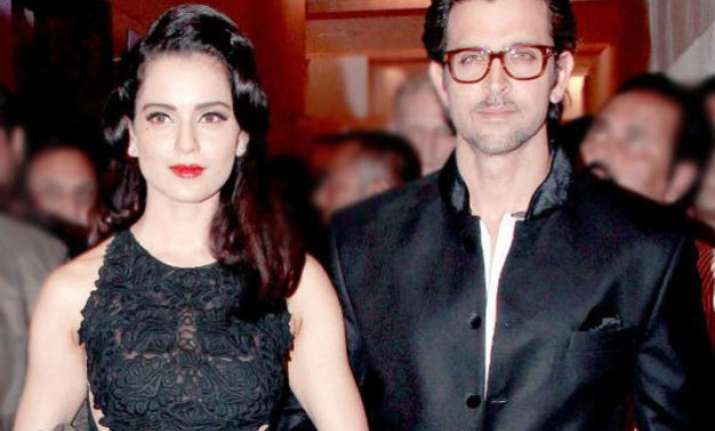 New Delhi: Bollywood actress Kangana Ranaut is quite popular for her candid nature. In fact, the actress is often seen making sharp comments about her colleagues from the B-town.
Remember her ongoing cold war with Deepika Padukone?
While she had been busy shooting for her forthcoming movie 'Rangoon', the diva is once again back with a bang for the gossip mongers.
Yes! Kangana has once again sparked up a controversy following war of words with her rumoured boyfriend Hrithik Roshan.
Kangana was alleged to be dating the 'Bang Bang' actor since 2013; however, none of them ever accepted their affair in public.
Hrithik, reportedly, became friends with Kangana while he was shooting for 'Kites' in 2010. "Hrithik was going through some trouble in his personal life at that time and he would talk to Kangana about it, and that's how they got close and became friends," a source told a leading channel.
The source further added, "Kangana and Hrithik continued meeting each other till the story of their relationship broke and then Hrithik tweeted denying it all. Their on and off relationship has been going on for a while now, even though Hrithik has not spoken about it openly".
While people had long forgotten about their relationship, Kangana's recent comment on Hrithik sparked the fire once again.
According to the media reported, when the 'Tanu Weds Manu' actress was asked if Hrithik Roshan had actually asked her name to be struck out from Aashiqui 3, she replied saying, "Yes, many lame rumours are doing the rounds, even a dumbass can tell where these rumours are coming from. I don't know why exes do silly things to get your attention. For me, that chapter is over and I don't dig graves".
Though the diva didn't take Hrithik's name, but the 'Lakshya' actor's tweet following her statement cleared the scenario.
Hrithik tweeted, "Ther r more chances of me having had an affair with d Pope dan any of d (Im sure wonderful) women d media hs ben naming. Thanks but no thanks (sic)".
While Hrithik's statement didn't go down well with Kangana, she replied saying, "I respect the other person's opinion. It's very likely that a person can have a different perspective of the same situation or rather the past. But then, stick to your stand. Don't contradict yourself and slyly pursue people, spy on them and chase them. So, we sign and seal the deal, and then move on".
While so far Hrithik Roshan hasn't made any statement on this war of words with Kangana Ranaut, but it seems that their relationship won't end on a good note.