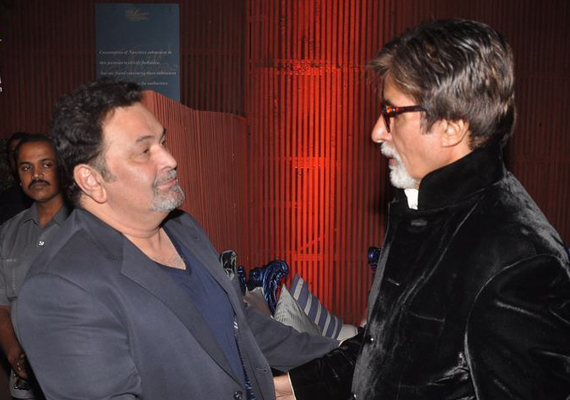 London, Feb 21: Bollywood veterans Amitabh Bachchan and Rishi Kapoor, who gave the hit film 'Amar Akbar Anthony' along with Vinod Khanna, are coming together in the forthcoming film 'Mehrunnisa'.

"We were to shoot for the film in April but because of Amitabh's health condition the shooting has been put off to October," Rishi said here last evening without divulging details of the film. Bachchan is currently recuperating in a Mumbai hospital post his abdominal surgery.

Rishi, 59, who was here to launch the 'India Week' at the London School of Economics and deliver his thoughts on the Indian film industry, said, "Hopefully we will have a new film under the R K banner as well."

"We, the Kapoor family, have been part of Indian Cinema for about 180 years. I am very proud that the Kapoors have been working in the films for four generations." Rachel Dwyer, Professor of Bollywood Cinema at the SOAS who discussed 'The Changing Landscape of Bollywood' with Rishi, said, "Bollywood is one of the few rivals to Hollywood and it is growing bigger and bigger."

Answering questions, Rishi said he was selected for the hit-film 'Bobby' by default. After 'Mera Naam Joker' failed at the box office, Raj Kapoor wanted to make a love story sans big stars and "that is why I was selected", he said.

"I owe my career to music directors of the era," he said.