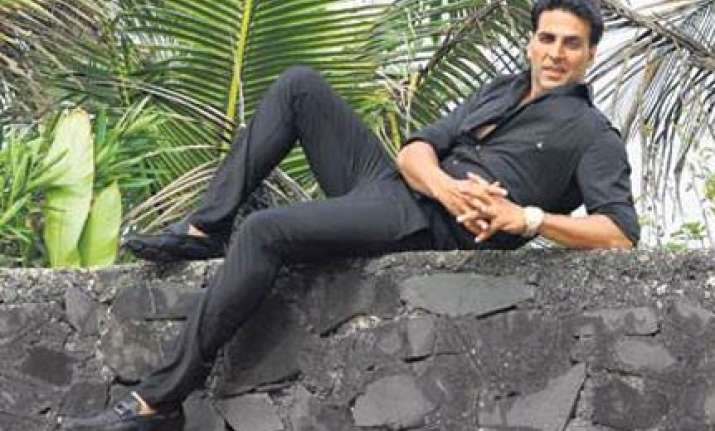 Bollywood star Akshay Kumar lives in a bungalow in old Juhu, a place from where he was unceremoniously thrown out by a watchman 23 years ago, says a media report.
The house that Akki lives in, is the same place where he got his first photo portfolio shot by none other than the renowned photographer Jayesh Sheth. Akshay then didn't have the money to pay him.  
This is how the story goes:
23 years ago, a struggler named Rajeev Bhatia (he's now known as Akshay Kumar) wanted to get a portfolio made, so he could procure roles. He approached a top photographer of the time Jayesh Sheth but didn't have the money to pay him. 
The 20-something aspirant requested the lensman to let him work as his assistant and use his salary as payment for his shoot. For the shoot, the photographer decided to use an old Juhu bungalow as a backdrop. 
The two reached the agreed place. Between one of the shots, a watchman guarding the place got rude with Khiladi Kumar, abused him and shooed him away. That bungalow is the actor's current residence. He bought the property a few years ago.
Says Jayesh Sheth: "It's amazing that Akshay now owns the same piece of land from where we were thrown out.  Those days, shooting outdoors was the norm.
"We chose this deserted-looking old bungalow, and he sat on the wall of the house and posed. I remember the watchman a cranky old man who created a big fuss about us shooting on the property.  He shouted at us, threatened to call the cops, and finally chased us away. But we managed to get a few shots."
He continues, "Akshay came to meet me at my Lokhandwala studio and frankly told me that he didn't have money for a portfolio so he'd work as my assistant and in return I shoot his pictures. He got to meet and observe actors closely when he accompanied me on shoots."Kumar worked for Sheth for a year and a half before the Juhu shoot happened.
"Once when I had gone to meet Jackie Shroff on the sets, he told Akshay that he should be in front of the camera and not behind it. Soon after that, I shot him. He is one of the simplest, most sincere and hard-working stars I have ever known."
A source confirms, "It's true. The caretaker, an  old watchman, got rude with Akki and Jayesh and told them to leave the premises. The Khiladi on a whim scribbled his name and telephone number on the wall, hoping some producer would see it and call him."
The source adds, "The place where Akshay's bungalow currently stands is of historic significance too. The area at the north end of Juhu Beach is a place called Gandhi Gram. Apparently, when Mahatma Gandhi used to practise in the Bombay High Court in the late 1800s and early 1900s, he used to live there. Gandhiji has mentioned in his autobiography that he used to walk to Bandra station from far-off Juhu to catch an empty train to south Mumbai."