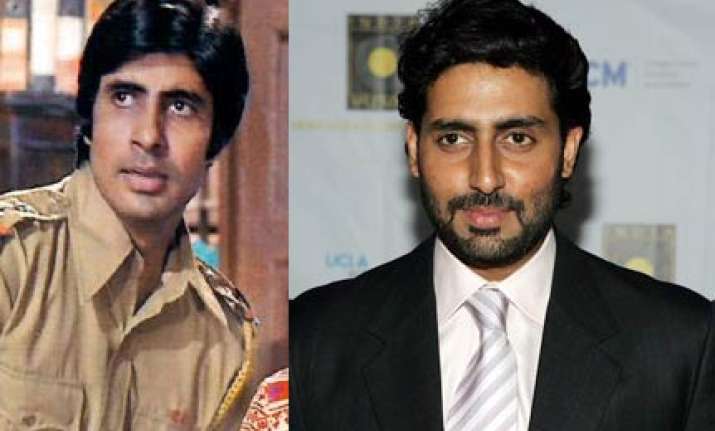 Thirty-seven years after Amitabh Bachchan burst on the screen as the angry young man as Inspector Vijay in Prakash Mehra's Zanjeer, his son Abhishek is to play a similar 'Inspector Vijay' kind of role in Rohan Sippy's Dum Maro Dum.  
Abhishek's Zanjeer role made Big B the legend he is. Salim Javed had poured their best emotions into making Inspector Vijay one of the most memorable screen characters that Bachchan inhabited.
An international media channel survey even declared his character in Zanjeer as Bachchan's greatest role ever. Now Abhishek has stepped into those shoes in an action thriller that deals with the drug mafia of Goa.  
Vijay in Zanjeer, the character is a no nonsense cop with a history. Says Rohan, "Dum Maro Dum is set in contemporary Goa and Abhishek is playing a special cop. In our references, the character of  Bachchan in Zanjeer has featured largely. It has similar shades. Inspector Vijay is one of the iconic characters played by  Bachchan and it would be exciting to see how Abhishek plays a role similar to it."  
Abhishek has been preparing for the role extensively, physically and emotionally. A special team is working on his look and styling. He is spending a lot of time with Rohan discussing the nuances of the character as the co-producers of the film, a foreign studio, are hoping to internationalise the film in terms of its appeal as a hip thriller.